Announcing a New Look and Feel for The Select Group
Author
TSG Communications
Publish Date
June 5, 2017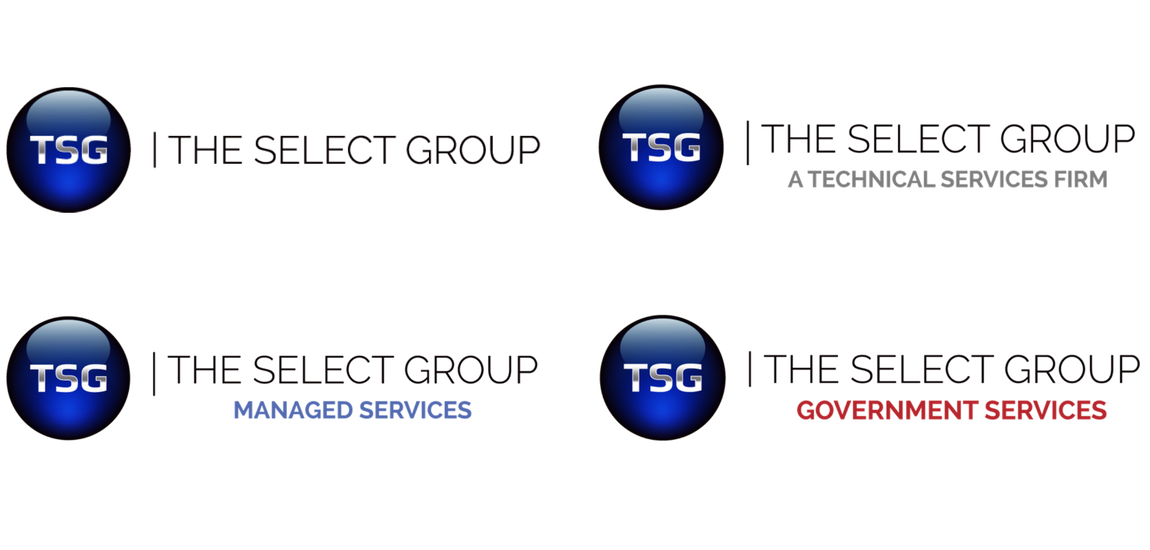 Refreshed website and corporate identity highlight additional offerings from fast-growing tech services firm
The Select Group (TSG) recently announced the launch of a new brand identity and website for the award-winning and fast-growing technical services firm. The refreshed brand helps differentiate TSG from its competitors and highlights new services, while the redesigned website provides a user-friendly and enhanced experience for their clients, consultants and job-seekers.
A refreshed look and feel
"I designed the original intertwined S & G logo for The Select Group myself on the back of a napkin," Sheldon Wolitski, TSG CEO & Founder, expressed. "I wanted to have a hand in crafting the new logo to ensure it represents who we are now and the monumental growth we are heading towards. The Select Group isn't just a staffing firm anymore, we are a technical services firm, and we refer to ourselves as 'TSG' – so we wanted to update our logo to reflect this nomenclature."
The company has undergone extensive growth in the last 18 years but has been maintaining the same look and feel. "The update to our logo helps customers see the expanded service offerings TSG provides, as well as our entry into new industries and markets," said Zach Earls, EVP of Sales & Delivery at The Select Group. "We have value-added services to offer c-suite executives, hiring managers and job seekers – across the board. The new website will help us better leverage these relationships by showcasing what we do and how we do it."
A company goal is to raise awareness of the holistic project management solutions available to clients, and additional career opportunities for candidates and consultants. By introducing sub-brands to the TSG corporate identity, the company is enhancing visibility of their dedicated national teams supporting Managed Services and Government Services.
A digital footprint designed around customer experience
"Based on analytics, the number one reason people visit our site is to apply for the hundreds of open IT positions we post in the US and Canada," said Marketing & Communications Manager, Stephanie Cashwell. "We worked closely with our design agency and job board partners to create a seamless experience for applying to jobs with TSG."
The company worked with the Raleigh digital agency Walk West to focus on the mobile aptitude of the site and ensure a fully optimized, on-the-go experience for TSG's customers.
New website features
The Select Group's core business is connecting the right people with the right jobs, and they now provide enhanced job search functionalities on the new careers page, like a location search powered by Google. For clients, there are case studies, datasheets, success stories and blogs to showcase the variety of ways TSG benefits their business partners. Alongside the new logos, the new site features dedicated pages for Managed Services and Government Services to show how they assume ownership and risk, navigate security clearances, and create turnkey solutions for any size business project, as well as government agencies from local to federal levels.
Evolution of service offerings
Since Wolitski launched the company in 1999, it has been focused on providing superior staffing services to the growing Raleigh-Durham-Triangle area. Those services expanded beginning in 2010 to markets such as San Diego, California, Washington D.C. and Dallas, Texas. Since then, TSG has grown to 13 locations across North America, and its National Delivery Team is dedicated to supporting hiring anywhere its services are needed.
In early 2017, the company brought on managed services veteran Jill Harlamert to their executive leadership team, and has relaunched their brand identity to increase awareness of the additional client services they now provide.
About The Select Group
The Select Group is a family, spread out across North America, made strong by diversity, and drawn together by a common purpose of positively impacting lives, one experience at a time. By helping businesses flourish and job seekers reach their professional dreams, they fulfill that purpose.
TSG has been consistently recognized as an industry leader, including being named to Inc. 5000 10 times, Largest Staffing Firms in the US by Staffing Industry Analysts (SIA), Fastest-Growing Staffing Firms in the US by SIA, and finally, receiving the leading industry honor several times: Best of Staffing for both Client and Talent awards.
5520 Capital Center Drive, Raleigh NC, 27606 | 919-459-1400 | www.selectgroup.com