Diversity & Inclusion
Be your authentic self.

TSG values the unique perspectives our employees and consultants bring to work and life each day. We're building a culture that encourages, embraces, and celebrates diversity, ensuring we have an inclusive workplace where everyone can be who they are.

Together, we're driving innovation and creativity to help our clients succeed and to make our communities stronger. We are here to learn and grow.

Join us, and just be you.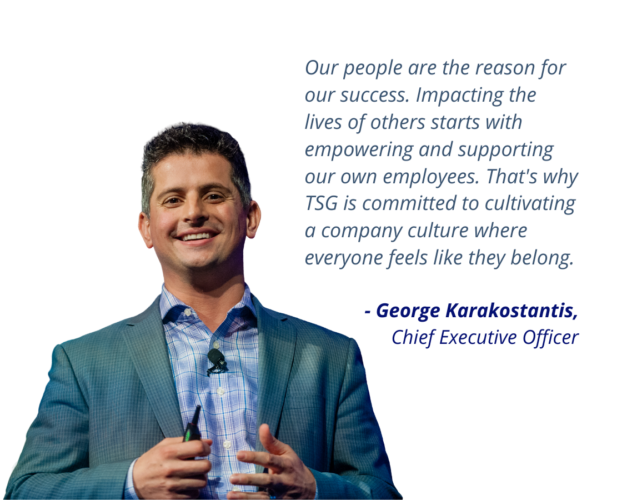 Our dedication to a better world
At The Select Group, our mission is to positively impact lives, which includes enabling the voices and career opportunities of all.  As a business, we know that welcoming and including a diverse range of backgrounds and perspectives strengthens our organization, and the world, as a whole.
To enhance our existing efforts and mobilize TSG's goals for the future, we've assembled a dedicated Diversity, Inclusion & Belonging Council that will further our ability to positively impact lives.
Have a question around TSG's Diversity & Inclusion efforts and goals? Contact our team.
What TSG is Doing
TSG's dedicated Diversity, Inclusion and Belonging Council is focused on driving initiatives in 4 key areas: Leadership, Workforce, Workplace, and Marketplace.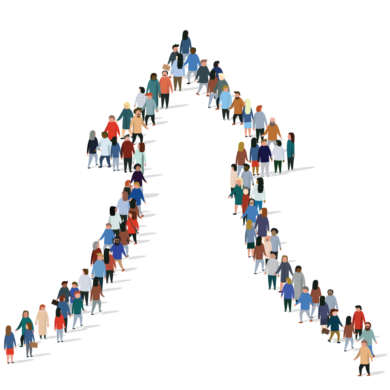 Leadership
Training and workshops on mitigating bias in hiring
Continued education and training on building diverse and inclusive teams
Fostering concepts of accountability, presence, commitment, and engagement
Workforce
Diverse recruitment strategy
An established Diversity, Inclusion and Belonging Council
Maternity and paternity leave plans
Company-wide mentorship programs and coaching opportunities
Workplace
Regular employee engagement and feedback surveys
Women in Business, a program focused on personal & professional development
Education and training for all internal employees
Marketplace
Thought leadership within our industry
Women in Technology partnerships with Fortune 500 companies
About TSG's Women in Business program
TSG is proud to celebrate the women than define the strength of our company and the world. We are committed to enabling employees to develop throughout their career with our Women in Business initiative, a program launched in 2018 that focuses on enabling and equipping women at TSG to envision and implement a path to long-term personal and professional success.
"Leading our Women in Business program has been a true honor, as it has enabled me to see the tremendous growth of our women in the areas of assertiveness, confidence, and risk taking," says Leigh-Wallace Dodd, Manager of Workforce Development. "Our program participants invest a significant amount of time into their personal and professional growth, leading them to become strong leaders in their branches, regions, and lives outside of work."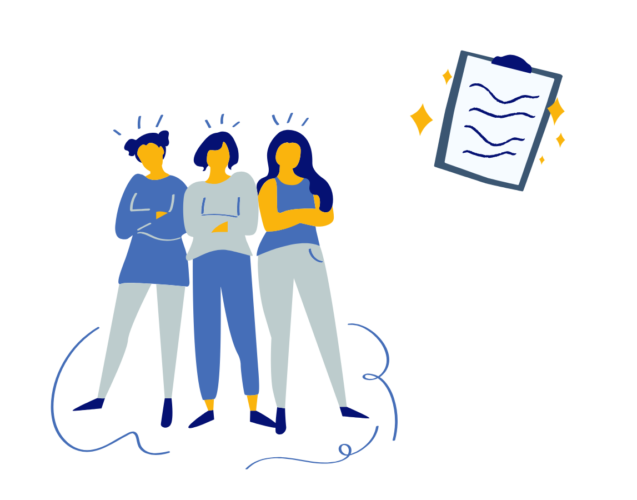 Diversity, Inclusion and Belonging Council
The Select Group's Diversity, Inclusion & Belonging Council (DIBC) is a group of leaders that work closely with each other and senior leaders to create positive organizational change that aligns with overall business strategy. This dedicated DIBC ensures that diversity and inclusion initiatives remain a key focus while driving accountability for results and company-wide communication on progress.
"Our team is the most important asset at The Select Group, and it's critical that we have a culture where employees can bring different perspectives and new ideas to the table that help drive forward our vision of empowering the future," says Missy McCormick, member of the DIBC. "As Senior Director of People Strategy, our Diversity, Inclusion & Belonging Council keeps me connected to the perspectives and expectations of our employees and clients from different regions, backgrounds and life experiences. This group helps us make sure our D&I strategy and programs are creating a culture of belonging and impact — making a difference for clients, consultants and our communities."