For the 13th Consecutive Year,The Select Group Ranks in Top 50 Fastest-Growing Private Companies
Publish Date
November 9, 2021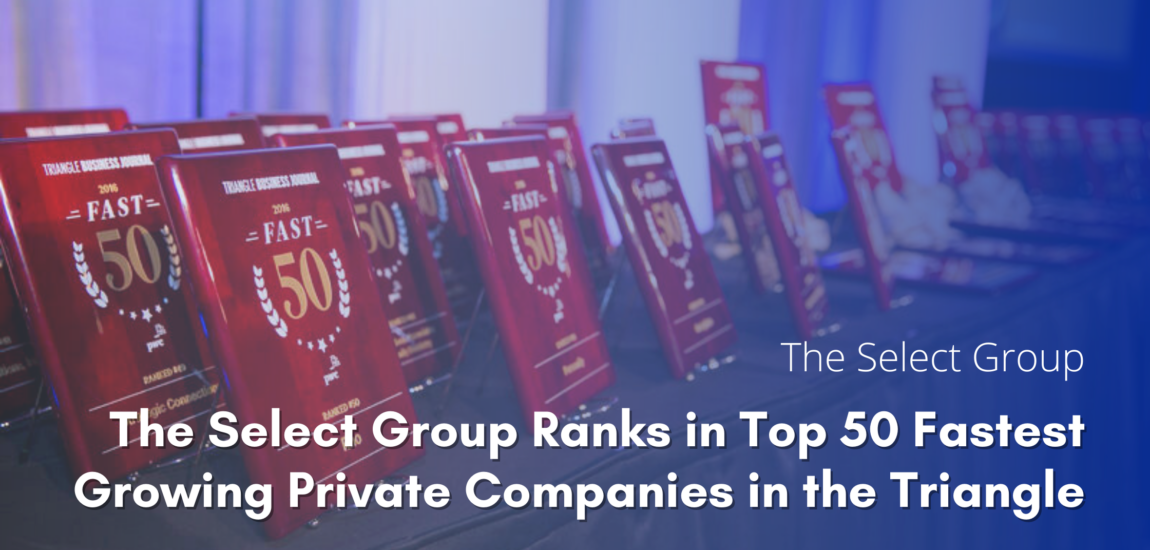 The Select Group (TSG) was honored to accept Triangle Business Journal's 2021 Fast 50 award at the event ceremony on Oct. 28 at the Raleigh Convention Center. This is the 13th consecutive year that TSG has received this recognition. This award program is presented to the Triangle's fastest-growing private companies who are at the forefront of a thriving economy and meet revenue and profitability criteria over a three-year period.
"TSG is focused on creating an enhanced experience for our clients through a variety of flexible service offerings," says Kelly Dominguez, Vice President of Utilities. "A strong technical market, paired with our ability to develop great relationships with business leaders across Fortune 500 companies has helped TSG continue to grow."
This year, CEO George Karakostantis attributed the company's success to the robust technical market and strong business partnership. Although this year has presented its own set of challenges with the pandemic altering the workforce structure, The Select Group continues to grow its family of employees across North America and utilize the remote work environment to reinvent its market strategy. With 2022 quickly approaching, TSG looks forward to further fueling its growth and offering customers new levels of value, services, strategy, and partnership.
About The Select Group
The Select Group (TSG) is a technical services firm providing IT talent, managed solutions, and professional services to some of North America's largest companies. Clients trust TSG to deliver services that allow them to achieve strategic initiatives and organizational objectives. TSG stands ready to partner with clients and consultants, alike, while fulfilling its company purpose of impacting lives, one positive experience at a time. Contact our experts today.