Top 4 Benefits of Utilizing Managed Solutions
Publish Date
August 21, 2017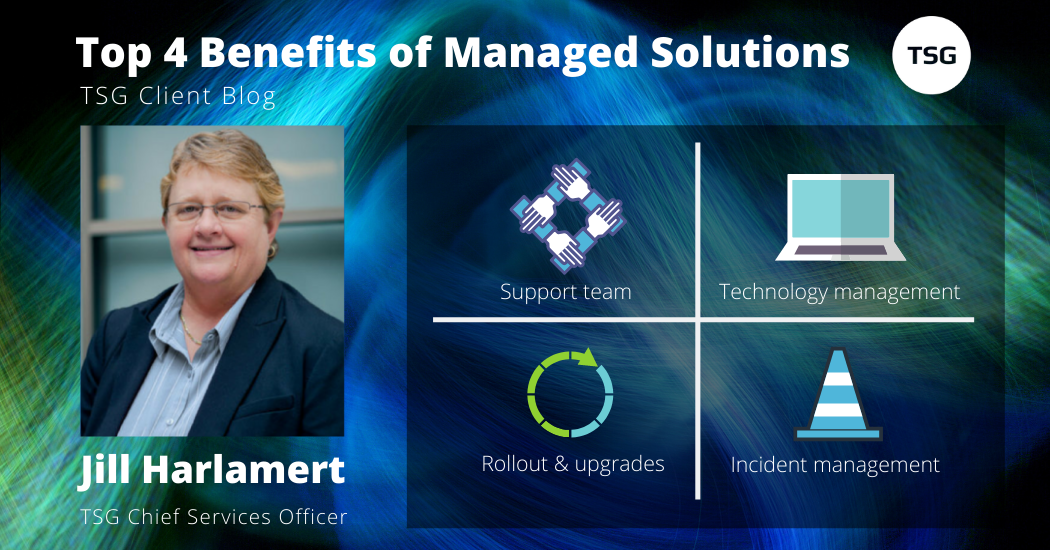 Imagine being a startup and trying to single-handedly manage finances, marketing, logistics, customer experience, sales, and product development. With so many technological tasks to keep up with, it just isn't feasible to juggle them all at once. This scenario is why managed solutions has become a must-have for successful businesses. Managed solutions providers are there to take on these new responsibilities so that your business doesn't have to skip a beat. Here are the top four benefits you'll enjoy when you make use of a managed solutions team.
Top four benefits of utilizing TSG Managed Solutions
AGILE Services
Having a support team with you every step along the way to ensure things go smoothly
When you go with a managed solutions provider, your project is no longer just yours. You'll get a team of professionals who now have a vested interest in your success. From day one, they take ownership of all aspects of the project, including directing the daily tasks of all consultants assigned to the project. This ensures things pan out just the way you imagined them all the way until your project is complete.
Technology Management
Transformational standards and policy services for IT strategy
It seems like every day brings the emergence of new technologies. With all kinds of software, hardware, and other gadgets floating around in the market, keeping up with it all can lead to platform overload. A managed solutions team gives you the peace of mind, knowing that you have knowledgeable professionals to manage your business's technologies.
Rollouts and Upgrades
Ensuring platforms stay up to date and cutting edge
Not only must businesses be aware of what technologies are out there and how to best utilize them—there's also the need to keep these platforms up-to-date as new versions are developed. You don't want to miss out on key improvements to your platforms, and with a managed solutions team monitoring those updates, you won't.
Incident Management
Supplying ownership, monitoring, tracking resolutions, and communication to your users
Even when you think you've tied up every loose end, thought of every possible scenario, and prepared for any obstacle, things can always go wrong. Why not let someone else tackle the difficult ones on your behalf? Especially when those people are seasoned IT professionals who spend much of their time doing just that: finding solutions to seemingly unsolvable problems.
Why The Select Group Managed Solutions?
The Select Group's managed solutions team delivers solutions with high quality and optimized processes, equipping clients with the power to achieve business goals.
There are four major offerings within our managed solutions portfolio: application services, infrastructure services, workforce transformation, and digital transformation. Under the umbrella of application services, we provide project management as a service, quality assurance through testing and progress metrics, development services, and support and maintenance along the way.
With TSG's infrastructure services, clients benefit from data service centers, technology management, rollout and upgrades to keep platforms up to date, and incident management. Lastly, our promise of workforce transformation includes tenure solutions, employee development via renowned training programs, a talent bench to keep top talent ready to join clients' projects, and services procurement and consolidation.
Our website features case studies from projects like mobile app development and infrastructure services, detailing the challenges, solutions, and results the team has historically supported. Our managed solutions team continues to be a nationally renowned technical services provider, prepared with what it takes to help clients make dreams a reality. Ultimately, what makes us unique is the way in which we measure success: based on the strength of the relationships we create.
About Jill:
Jill Harlamert has more than 34 years of experience in engineering and information technology and 20 years in the staffing industry leading managed solutions teams. Jill is responsible for TSG's robust offering of turnkey solutions and services.
---
Categories
Business Insights, Technology Tips
Featured Links