4 Steps to Successful Managed Solution Engagements
Publish Date
January 2, 2019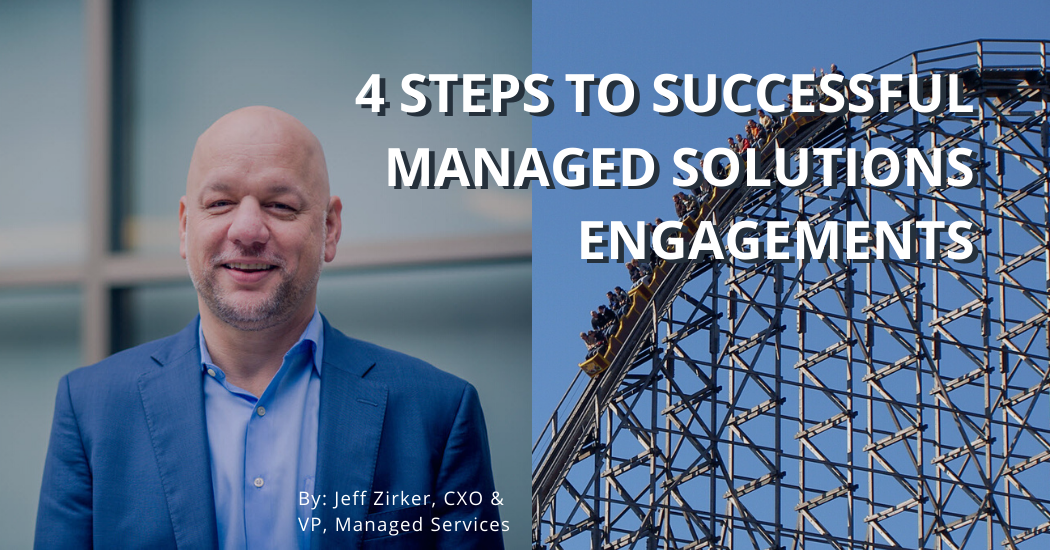 The managed solutions business can be a roller coaster of opportunity. Clients release bids for proposals to a wide range of firms in their partner community, and the countdown to award begins. But requirements change, opportunities dry up, and deadlines get moved. Service providers make an assortment of decisions on how to bid and how to remain price competitive, while also ensuring a win is profitable and within the company's portfolio of capabilities.
A quality managed solutions partner will approach every bid with the following objectives:
Demonstrated understanding of the client needs
Alignment of service capabilities to the opportunity
Appropriate pricing with articulated value add
Post-award follow-up and monitoring
Demonstrated understanding of the client needs
It's rare that a random bid for a project previously unknown to the managed solutions firm will be successful. Firms who have established a trusted partner relationship with the client will be in the most favorable position. This trust can take months to cement, if not more. A strong Account Manager or Business Development Manager plays the long game in managed solutions, spending time with the client to listen to their needs, understanding their initiatives, and gathering continuous updates on their organizational priorities and leadership motives. Prior capabilities and use cases are essential here, even when there may not be a directly applicable past client or project. Knowing the customer's needs can allow a service provider to cast similar past projects as directly relevant to the current opportunity, referencing common skill sets, delivery models, or scope.
Alignment of services capabilities to the opportunity
Don't be tempted to oversell into an opportunity. Clients usually do a fine job of vetting and confirming their needs, including budget availability, timeline, and organizational impact. A gaudy bid can result in the client seeing a forest when all they want is to cut down a tree. Focus on the requirements as described, and leverage the wins achieved for future opportunities and services growth. As more services are delivered via subscription models, consider a similar, fixed monthly fee approach for new bids, avoiding a body shop or specific resource-based pricing model.
Appropriate pricing with articulated value add
Pricing that is confusing, overly detailed (unless specifically required), or bloated to hide service provider margins can distract the approving authority. This may invite re-bids or even disqualification where it's not aligned to the proposal requirements. On the other hand, describing at a high level where added value is offered as part of the pricing can be a differentiator. Simple, easy to understand discounts based on term or volume are a great way to return savings to clients in return for a longer or higher lifetime value opportunity.
Post-award follow-up and monitoring
The managed solutions model doesn't stop at award. Any winning firm needs to remain connected to the client as delivery progresses to ensure the client is satisfied, the terms of the winning proposal are being honored, and the quality of delivery stays high. This post-award approach is often the most important factor for a long-term client-partner relationship, as it increases the "stickiness" of a service when the provider is focused on delivering high value over a long period of time. Renewals are easier, scope increases are simpler, and employee retention is raised. Establishing a reporting capability that clients can use to measure ROI and performance of a partner are also critical to the client's success and assures the client that the partner is actively invested in the project and always looking for ways to improve productivity, efficiency, or overall project costs.
Don't fret about projects that wind down and eventually go away. A properly scoped, priced, and delivered service can do more for the partner's brand than anything else they may do. It demonstrates the partner is interested in client success first and is committed to being a quality partner.
Categories
CXO Series, Managed Solutions