5 Benefits That Make TSG Consultant's Lives Easier
Publish Date
December 14, 2017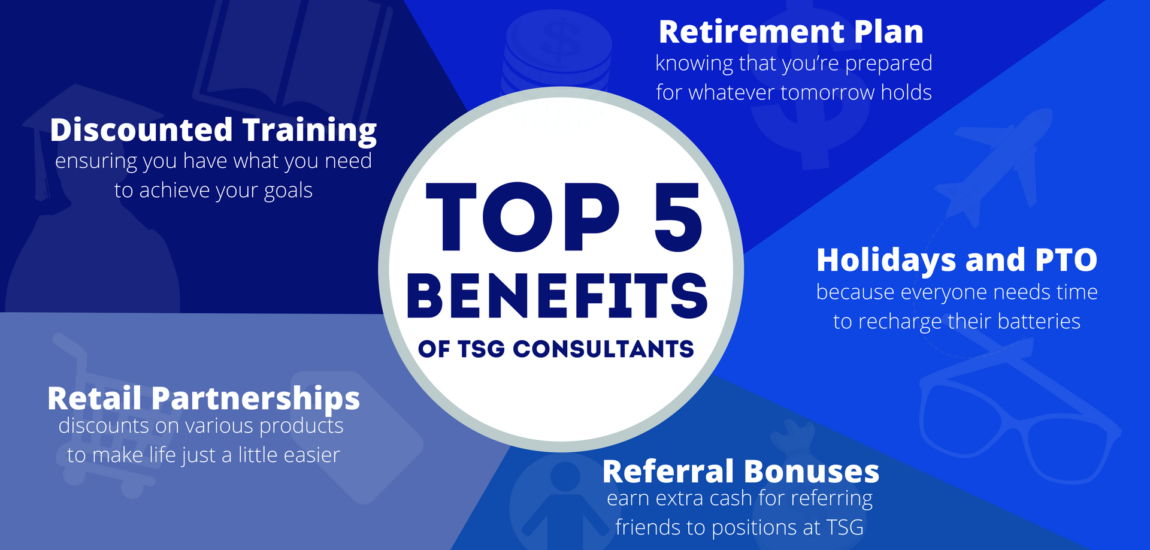 More than 1,500 people across the U.S. and Canada partner with TSG to achieve their career goals, fulfilling the unique needs of our clients and doing everything from software development to project management.
They're an essential part of the TSG family, and one of the ways we give back and show appreciation is through competitive benefits and job perks. Here are five benefits and perks available to our consultants.
1. Discounted training
To kick off the list, we're looking ahead to the future. Whether it's a degree, certification, or informative classes, we provide opportunities with partners like Global Knowledge and Capella University. Lifelong Learning is The Select Group's continued education program that's available at a discounted price. It's about investing in the future of our employees and ensuring they have what they need to achieve their goals.
Visit our Discounted Training page to learn more.
2. 401k retirement plan
Speaking of investing in the future, 401k plans give our employees the ability to do just that. We offer competitive plans that make it easy for TSG employees to put money away for retirement, should they choose to do so. It's about having that piece of mind – knowing that you're prepared for whatever tomorrow holds.
Send an email to our TSG Benefits specialist to learn more.
3. Holidays and paid time off
When our consultants are placed with companies, their roles are critical to business success. That's why it's so important for us to do everything we can to support them. One of the ways we try to ensure their success is through providing adequate time off to recharge their batteries. When you're able unwind, you come back ready to perform at your highest potential.
Send an email to our Consultant Relations Team to learn more about our elective PTO package.
4. Referral bonuses
Consultants in need of some extra cash can earn a bonus for referring friends to positions at TSG. That's right, you can actually get paid referring your friends – so long as your friends are seriously qualified for the position you have referred them to. Not only does this allow consultants to earn some extra cash, it means that even more candidates are connected with their next career opportunity.
See our Referral Programs page on our website to learn more.
5. Retail partnerships
In today's economy, every dollar counts, especially when holiday shopping comes around. That's why we go above and beyond traditional employee benefits, partnering with companies like BJs and Corporate Perks to offer membership and retail discounts.
Email our TSG Benefits Team to learn more.
Work with us!
Interested in getting in on these benefits and jump-starting your career in the process? We've got open positions across the U.S. and Canada. Check out our Career Search to get started, but before you do, utilize this free LinkedIn resource to make sure your profile is ready for the job hunt!
And remember, if you have questions about any of the benefits listed above, our TSG Benefits Specialist is always willing to answer your questions.
Email Benefits@SelectGroup.com.
Categories
Consultant Benefits
Downloadable Content