San Diego Branch Manager Selected as Catalyst for Change Award Finalist
Publish Date
March 30, 2018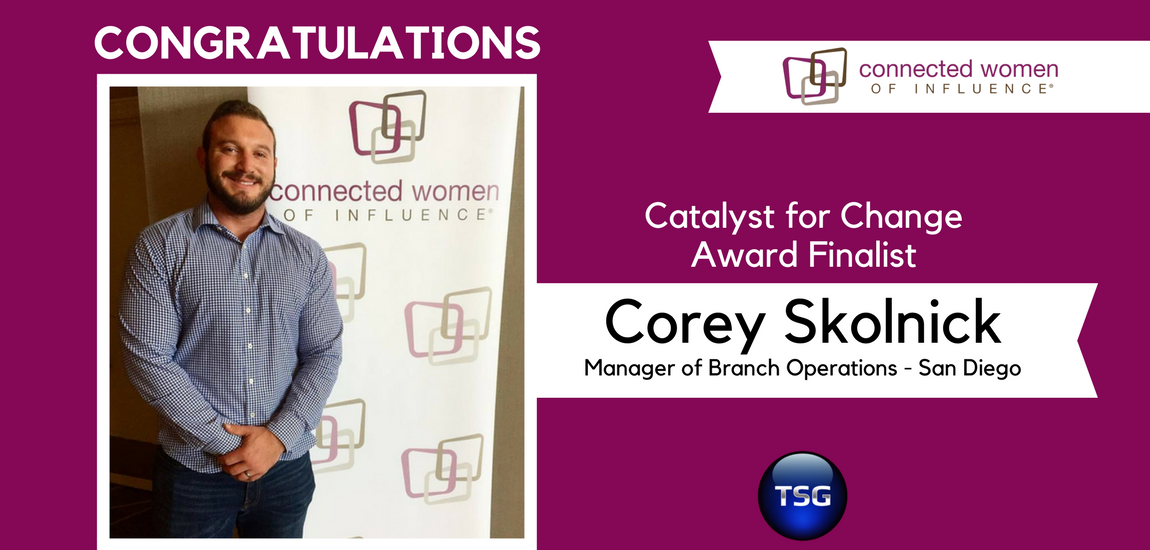 Corey Skolnick, Manager of Branch Operations (MBO) at The Select Group's San Diego branch, was recognized as a finalist in the Connected Women of Influence: Catalyst for Change Award.
Nominated by coworkers and peers, the Catalyst for Change Award recognizes a man who has shown by deed, actions, and accomplishment the advancement of other businesswomen, or how the nominee has a track record of success and accomplishments by mentoring and/or supporting other women in their profession, industry, or enterprise.
"I am honored to have been nominated by our team of women here at TSG, and I am beyond grateful to work side-by-side with such talented and incredible individuals! It's exciting and very special to come to work every day and see so many women at TSG thriving and taking our company to the next level," said Corey when reflecting on the nomination.
Members of Corey's San Diego team recognized him for the award and sent in his nomination.
"Corey is a proven leader who exemplifies positive change by creating an environment where he supports, mentors, guides, and empowers businesswomen. He is driven to help us be the best versions of ourselves in the workplace, and in our personal lives, and it is a blessing to have him as our manager," said Hanna Mahoney, TSG Talent Acquisition Manager, and one of Corey's team members.
As a champion of female leadership and empowerment, The Select Group has added internal programs that benefit its female employees. Women in Business (WIB) gives participants access to activities like monthly small group coaching, small group case studies, as well as quarterly keynote conference calls with women leaders in the business industry. The Women in Business program's objective is to enable and equip women at TSG to envision and implement a path to long-term personal and professional success, whatever that means to each individual.
Connected Women of Influence (CWI) is the leading, invitation-only association for women business owners, executives, and professionals. CWI's mission is to build a strong, professional community that fosters growth, support, and collaboration through the development of high-performing professional relationships, alliances, and partnerships. Its vision is to see more women lead the way in business.
Founded in 1999 by CEO Sheldon Wolitski, The Select Group is headquartered in Raleigh, NC, with branches throughout North America. With a company purpose of impacting lives, one positive experience at a time, TSG offers managed solutions and staff augmentation to businesses of all sizes, as well as a dedicated government services division for meeting federal, state, and local government needs. TSG's technically-trained staff of recruiters and account managers are focused on building relationships to add value to the hiring and talent management processes.