It's All About the Experience
Publish Date
January 13, 2016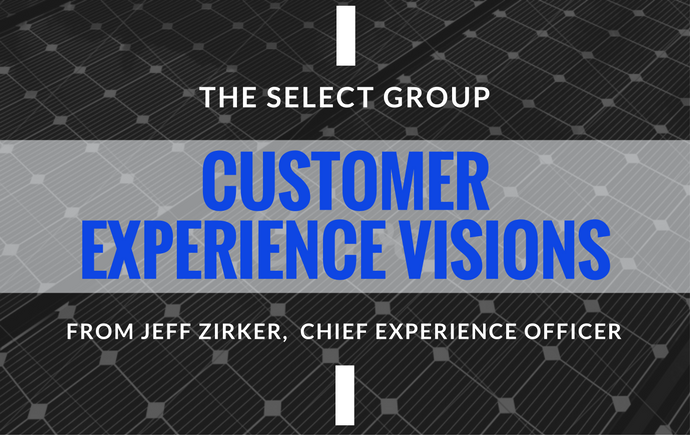 For business in general, the position of Chief Experience Officer (CXO), Chief Customer Officer (CCO) or a number of other customer-centric titles that have made their way into the C-Suite, are relatively new. A case can easily be made for such a position in companies with a high Business-to-Consumer (B2C) interest. But in a Business-to-Business (B2B) corporation? And IT Staffing to boot?  At The Select Group (TSG), we believe so – absolutely.
Because the experience extends beyond our customers.
At TSG, we have three customers: our End-Clients, where we place talent; our Consultants, the talent we find jobs for; and Employees, the binding agents that match Clients with Consultants. Each audience has a need to be served, and to have an experience that is second-to-none.
Our Clients receive a tailored experience based on their needs, not the needs of a staffing provider. We strive to exceed expectations from beginning to the end of the process.
This unique approach positions TSG as a true partner, not a vendor.
Our Consultants have individual needs. From submitting their credentials to us for consideration to the interview process and subsequent onboarding to benefits questions and performance discussions. Meeting these needs is critical to the success of each consultant, and a focus here at TSG.
And our Employee experience needs to be world-class, as well. As the adage suggests: your customers are only as happy as your employees. Training, culture, recognition, annual meetings and workplace benefits can influence their experience, and, if positive, create lasting loyalty among the workforce.
These examples just scratch the surface, which is why TSG is leading the industry in establishing an executive-level office focused on The Experience.
---
This post is from our CXO Blog series, written by Jeff Zirker, our Chief Experience Officer (CXO). See the rest of his collection here.
About the Author:

Jeff Zirker started with TSG in 2015 after more than 22 years with a leading U.S. technology company. His passion for people has led to the implementation of new processes and programs across the company designed to enhance customer experience. No stranger to adventure, Jeff once spent two weeks on an uninhabited Hawaiian island.