Landing Your Dream IT Job: The 4 Pillars of Personal Branding (Part 4)
Publish Date
August 22, 2019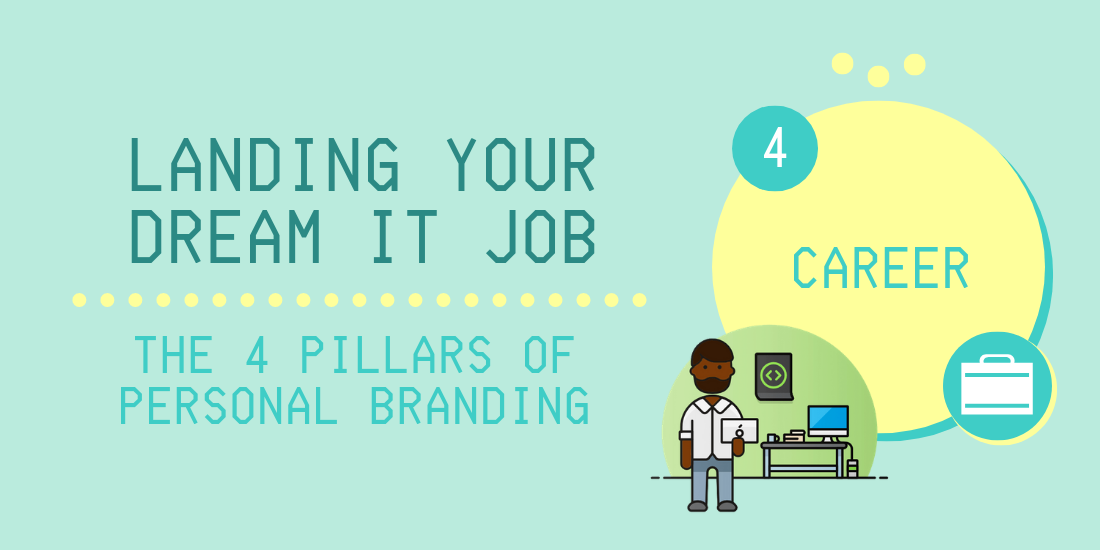 4. Career
Bringing it all Together
You might be wondering what your out-of-office hobbies, social life and Instagram account have to do with your career aspirations. Here's how effort in the other 3 pillars can support your career goals:
Identity. Actively engaging in subjects that interest you simply makes you a more interesting candidate. You'll have answers not only to technical questions, but also questions such as, "What do you do in your free time?" Additionally, defining your values can help you align your ideals and ambitions with those of the organizations you aspire to work with.
Social. Increasing activity in your social sphere helps prepare you for situational questions in interviews as well as social challenges at work. Meeting new people can also increase mutual contacts with others, which aids in forming new relationships. Furthermore, forming new connections increases your career opportunities and challenges you to learn new ideas and consider different perspectives.
Online. By documenting your passions, industry knowledge and productivity, you'll have more credibility when applying for new positions and in general. You'll have a boost with your collection of unique, impressive application materials. If you stay on top of endeavors like your LinkedIn profile and web portfolio, everything will already be ready organized when it's time to apply for that new position!
Resume
Just like you should continuously improve and reflect on your personal brand, you should ensure that your resume is always up to date and that you are tracking your projects and successes for future reference. A quick tip is to include more "I" and less "we" when listing your experience – how did you uniquely contribute to each project?
Check out more of our Resume Writing Tips.
Career Path Elevator Pitch
Here's a not-so-secret secret: most people don't know what they want to be when they grow up. Or at least, their answers change fairly frequently. Ask yourself these questions on a regular basis:
What do you do?
What do you want to do?
Where do you see yourself in 5 years?
What steps are you taking to get there?
By monitoring and updating your answers to be concise and accurate, you'll prevent yourself from being taken aback by these common questions in times of personal transition.
Continued Learning
If you're committed to advancing professionally, your education shouldn't stop after school, or even after on-the-job learning. There are plenty of ways to ensure you're keeping your mind sharp and your skill set competitive, including:
Certifications. If your career goals include a new skill or job title change, certifications can help immensely. Even if you have 20 years of experience in project management, you'll need your PMP to compete in the current market.
User groups. This brings us back to the Social pillar; do any of your social circles advance your industry knowledge? Is there a gap that could be addressed by learning from others? This can include soft, non-technical skills such as public speaking.
Subreddits. Similar to user groups, subreddits are a great source of online communities for asking questions and sharing resources about specific topics. Here is a master list of tech-oriented subreddits.
Skills assessments. Use it or lose it! Prepare for skills assessments in advance and intermittently test your knowledge on skills and languages you may not use in your day-to-day work.
Conferences. Whether it's sponsored by your employee or your own pocket, tech conferences are a great opportunities to listen to expert insights, get caught up on industry trends and attend valuable workshops.
A commitment to continued learning expands your skills outside of work and shows employers that you are genuinely invested in your career path.
Summary: Personal Branding & Your Career Goals
Personal branding helps you stand out as a candidate when competing for a job. Not only could it help you land your dream job, but it can help you improve all aspects of your life when taken seriously.
The Select Group partners with you on your employment journey, working with you to reach your career goals. Ready to present your new and improved personal brand to hiring managers? Show us what you've got!
Submit a resume with TSG, or browse our current job openings.
Go to another section from this series: