How to Prepare for an Interview
Publish Date
July 6, 2017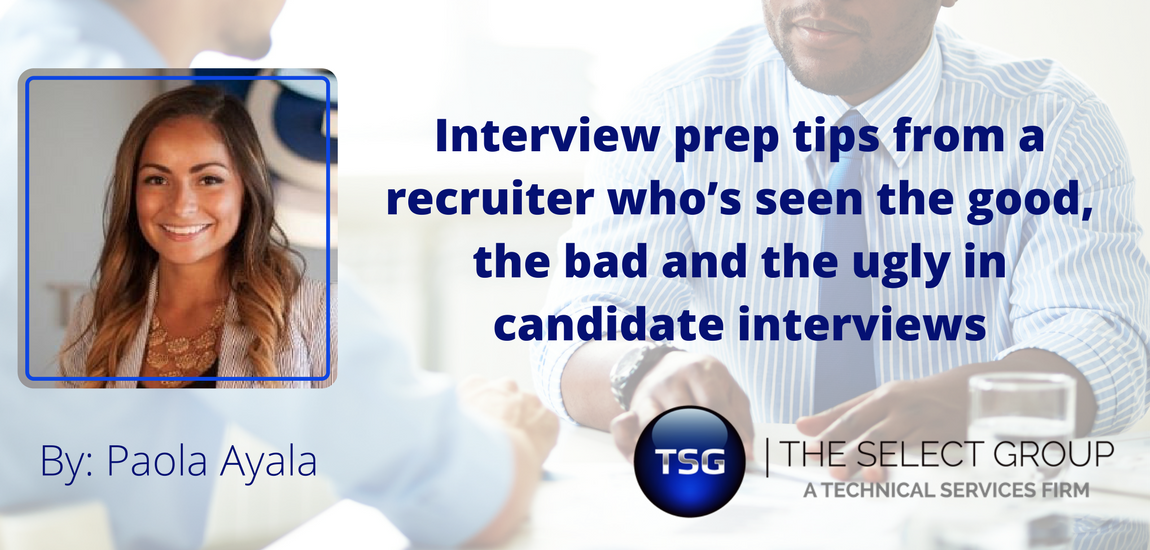 I have been interviewing candidates for roughly four years: two years in the technical recruiter chair and two years as a talent acquisition manager for The Select Group. These four years of dedicated practice have helped me develop insights worth sharing.
Since starting with The Select Group in 2013, I've had stellar interviews with candidates I knew could land the job just based on a phone call; but I've also had my fair share of terrible interviews with candidates who seemed unprepared, uninterested and unmotivated. Then there are those candidates who are in-between: people who have potential and—with the right guidance—can turn into the next hire! That guidance is where I come in.
If you're interviewing for jobs now or thinking about starting your search, here are a few interview tips that will make your experience a little less stressful.
Start by reviewing our Interview Best Practices post—these 15 interview tips are a fantastic starting point, and below I've included some additions from my own experience:
Pre-Research
The basics – company, interviewers, position details, commission structure (if applicable)
Spend some time researching and reading articles on tips for job interview success.
Items to Bring to the Interview
The essentials – resume, job description, notepad, pen, etc.
A confident attitude – Confidence comes from knowing your strengths and being prepared; not too cocky or shy.
Info to Have Ready
Questions prepared
Examples of how your background and experience aligns with the job requirements
Specific examples of what excites you most about the job. While we love to hear how excited you are to join the company/culture, we want to know you're interested and excited in the position and duties just as much!
A check-list or a guide to help you track your interview progress
Interview Do's
Sleep well, eat well, dress well.
Practice your responses.
Ask questions.
Be yourself… your professional self.
Interview Don'ts
Don't be afraid of silence if you need time to think of your answer.
Don't be afraid to ask for help or clarification – this shows your honesty and desire to provide the best, thorough answer.
One priority for recruiters at The Select Group is being a resource throughout the interview process for all our candidates. Interviewing can be nerve-wracking, which is why I try my best to encourage my candidates by providing constructive feedback and interview tips whenever possible.
So, before your next big interview, put in the work upfront and keep it simple during the interview; nervousness and anxiety will decrease if you know you've done your research and have prepared.
At the end of the day, what will take you furthest in an interview is being prepared, being yourself and having done your research.
In sales, who you are goes a long way, so prep before the interview and let who you are shine!
---
Related Blog
Check out Interview Best Practices – with 15 interview tips for making sure your next interview is a home run.