Are You Enabling or Empowering Your Team for Success?
Publish Date
March 17, 2021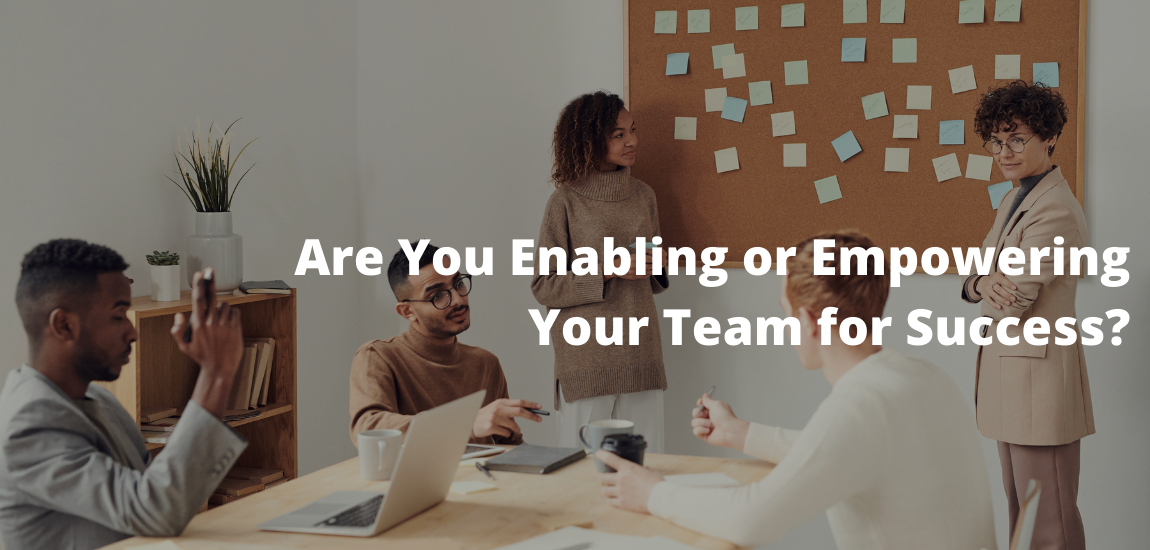 To help someone fish is enablement. To teach them to fish is empowerment.
Empowerment and enablement sound black and white, yet we find ourselves in gray areas. For a leader, empowerment means providing the tools your team needs to succeed in their roles. We enable and hinder growth when we jump in and do the "fishing" for them.
How do you know if you are enabling vs empowering your team?
Can you be out of work for a day without someone calling you? How about a week? How about two weeks?
Do you ask your team to come to you with solutions, or do they come to you looking for solutions?
Does your team come to you to ask you "what next" after they have completed their work?
When a project fails, who is held accountable?
Does your team feel as if they can take risks?
Based on your answers, it could be time to re-evaluate and shift your focus from enabling to empowering.
How to Empower Your Team
Space for Growth
Let me share an example of the difference using a personal story. My 6th-grade son is currently taking sewing as one of his middle school electives. We talk through his idea for his assignment, got his fabric, scissors, and everything ready. An hour in, I start envisioning the number of hours that will be absorbed in the creation of this miraculous sanitizer holder he was creating.
I resist the urge to cut out his pattern as he watches the tutorial. When he laid the pattern over the material, I resisted the urge to pin and cut around it. I knew I would eventually break, so I left him with a "let me know how it goes, I have to go back to work." It was after 6 p.m. on a Friday; I was not going back to work. I went upstairs, lay down in bed, and ate chocolate.
Some may call this "abandoning child in the middle of a life-changing project." I call it empowerment. Even though I had provided him with all the tools that he needed, I had to give him the space to learn. If I had filled this gap, then I would have taken away the growth opportunities, experience, and success.
---
Relating this to a work example, during a previous position I ended up managing a fast-growing team and eventually realized that I was being asked to attend every single project meeting for every client. When I attended those meetings, my team was silent and depended on me to lead every call. It made me feel good for a while, being the key point of contact. Until I quickly realized that in doing so, I was enabling them. I had taken away these key opportunities for my team: By leading the calls, my team was missing the opportunity to demonstrate leadership, facilitate tough conversations, negotiate and problem solve.
By leading the projects, I was taking my team's growth and knowledge for future projects.
I stopped attending meetings. When my team approached me with issues, I would ask, "what do you think?" or "what is your solution" instead of "I would do…"
Does this mean I was not supportive or did not provide them with the tools they needed? No, I was always there to provide them with the tools and remove any obstacles in their way.
Does this mean I was not fulfilled as a leader? The opposite! Seeing them grow was the most fulfilling part of my time there.
My role shifted from enabling to empowering my team.
Empowering Language
Terminology is key. Your structure of communication can impact your team greatly. Especially around tense conversations like addressing a mistake. When someone comes to you owning up to their mistake, instead of asking them, "What will you do to fix it?" try, "What did you do to fix it?"
This empowers them to try to fix their mistakes. It creates trust by implying they are fully capable of fixing their mistake. As a leader, you start to see a sense of urgency because this question places ownership on your team. Employees start to come to you with an issue that they've already tried to resolve, showing true ownership of their project, in addition to feeling empowered to make those decisions.
Of course, exceptions apply. There may be instances where team members need a bit more help. I challenge you to first ask for their ideas and guide them from there.
"The greatest mistake a (person) can ever make is to be afraid of making one" – Elbert Hubbard
Building Trust
With intentionally empowering your team, you may worry:
What if my team does not have what it takes without my continual guidance?
What if they fail?
What if they do not have the right skill set?
What if…what if…what if?
Mistakes are going to happen, and mistakes create remarkable opportunities to learn.  Create a culture where it is acceptable to make a mistake and learn from it.
From experience, I can tell someone is about to tell me that they have made a mistake before they begin talking. Their body language is tight, closed off. Their demeanor is nervous, unfocused. It almost looks like they are preparing for a long and arduous lecture on all the things they should have done. It is intimating to own up to walk up to your manager and air out your mistake.  So how do you react?
If you react upset or irritated, you're hurting the openness of the work culture. Damaging trust, that employee may not come to you next time they make a mistake.
If you oversee the "fix", you take away the opportunity to learn from the mistake and how to resolve it. You're also implying you cannot trust them to fix the mistake they made.
How liberating is it to work in an environment that not only empowers employees to be independent thinkers but also gives them permission to make mistakes and learn from them? Remember:
People are going to make mistakes. Your team is watching how you are reacting to their mistakes.
Are you going to use this opportunity to continue to empower your team or use it as an excuse to revert to enabling?
Ask your team "What did you learn from this and how would you ensure that this doesn't happen again."
Empower Your Team by:
providing them with the tools they need to succeed.
creating an environment where they can learn from their mistakes.
space they need to grow.
encouraging them through the structure of your communication.
trusting them to get the job done.
By providing tools and a safe environment, you are empowering employees to step-up in their career, and to learn how to fish for a lifetime.
"Give a man a fish and you feed him for a day. Teach him how to fish and you feed him for a lifetime." – Chinese philosopher Lao Tzu
TSG empowers employees and leaders to grow in their roles. Learn how here.
Are you a female leader who is looking to give back? Partner with our team to develop other leaders through our Women in Business program. Learn more here.
About the Author
With over 20 years in the IT industry, Sabrina Poteat is a certified Project Management Professional (PMP) and Scrum Master. Over the course of her professional career, she has focused on optimizing processes, reducing redundancies, and delivering high-impact projects. Her passion is in career development of the next generation of leaders.
When she is not focused on work, she devotes her time to volunteering at her local high school to review their curriculum and bridge the gap between education and the industry. She is also a devoted mother of three, often referring to herself as a volleyball mom.