TSG presents award to instructor committed to career readiness at ECU Faculty Symposium
Publish Date
October 26, 2017

The Select Group was honored to be one of the official corporate sponsor of the Impact Faculty Award, presented at the East Carolina University 2017 Faculty Symposium on Wednesday, October 25, 2017. The occasion was a symbol of the essential partnership between the university and TSG. ECU held the event to make career-readiness a critical component of the student experience, yielding consistently positive post-graduate outcomes for students, and high esteem from employers.
ECU recognized eight faculty members, one from each college at the university, for their impact on career readiness among students. Each of these honorees received a $50 gift card. Finally, The Select Group's Director of Talent Acquisition, Missy McCormick, presented the Impact Faculty award to Brittney Thompson, a teaching instructor in the school of communications.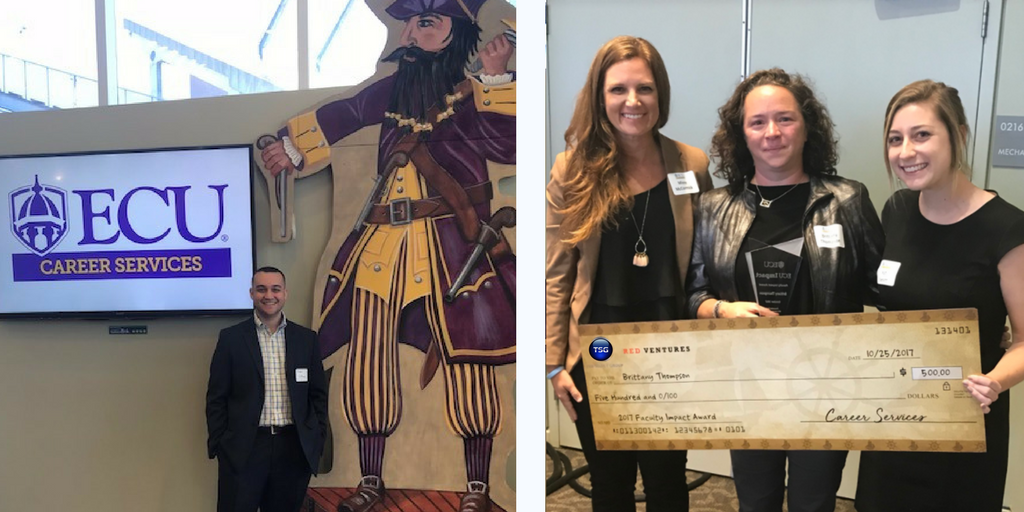 Thompson received an engraved trophy and a $500 gift card for her above-and-beyond efforts. After presenting the award, McCormick and The Select Group were recognized for their support and commitment to hiring ECU graduates.
"This was a great event honoring and appreciating the career services staff at ECU," McCormick said. "On behalf of the talent acquisition team and all of TSG, we were so glad to have been able to attend as the corporate sponsor."