TSG recognized for continued growth in the Triangle
Author
Stephanie Cashwell
Publish Date
November 10, 2017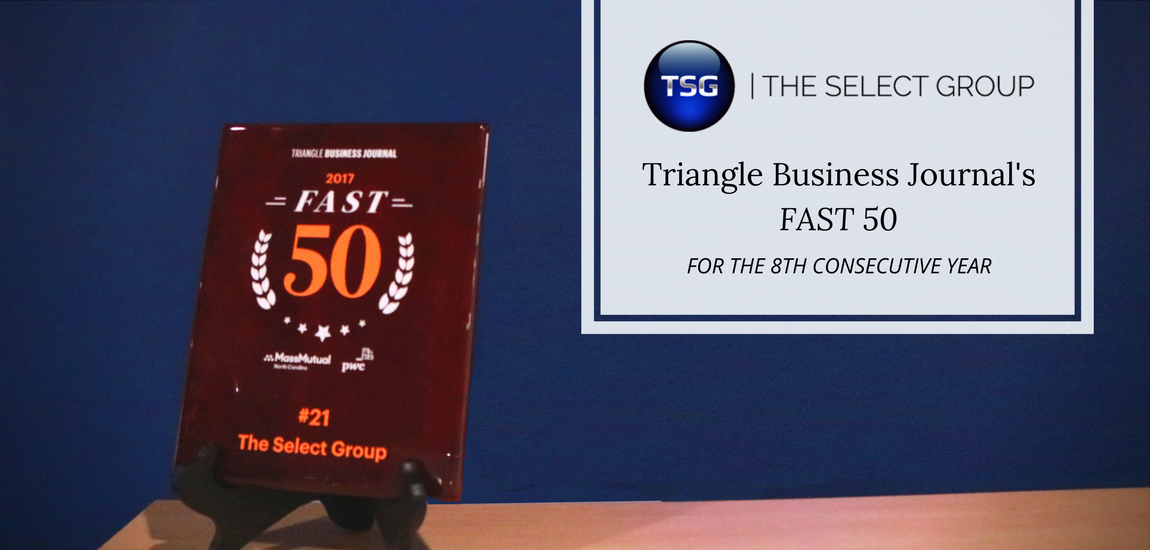 On Wednesday, November 8, the Triangle Business Journal revealed their annual rankings of the 50 fastest-growing private companies in the Triangle during the Fast 50 Awards dinner at the Raleigh Convention Center. Coming in at number 21, The Select Group made 2017's list for the eighth consecutive year.
Director of Raleigh Branch Operations, Fletcher Emery, accepted the award on behalf of The Select Group. "It's exciting to be recognized alongside these tremendously successful Triangle-area businesses," said Emery. "We are grateful to once again make this prestigious list, and look forward to continued growth in 2018."
The Fast 50 winners were selected and ranked based on a formula that counts revenue growth and profitability in the preceding three years.
"Combined, companies honored Wednesday said they've hired more than 7,200 employees in the past year and are planning to hire more than 8,300 employees in the next 12 months. Those predicting triple-digit (or more) hires in the next year include Spectraforce, Transitions LifeCare, LM Restaurants, PrecisionWalls, The Select Group and Baker Roofing."
In 2016 and 2017, The Select Group earned spots on Staffing Industry Analyst's annual lists for Fastest-Growing and Largest Staffing Firms in U.S.