TSG launches its newest branch in Huntsville, AL
Author
Stephanie Cashwell
Publish Date
January 27, 2017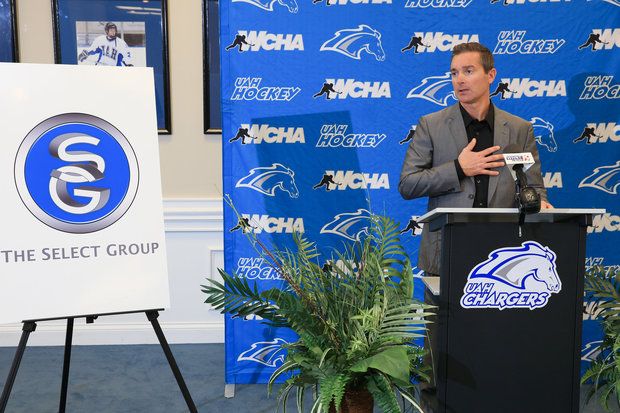 Sheldon Wolitski today announced the pledge of $500k to The University of Alabama at Huntsville hockey program and the launch of The Select Group's newest location in Huntsville, Alabama. This office expansion marks the 12th location for the company that's headquartered in Raleigh, North Carolina.
Led by CEO & Founder Sheldon Wolitski, a '96 University of Alabama at Huntsville (UAH) graduate, TSG provides managed solutions, direct placement, and contingent staffing services to a variety of industries, including government, technology, engineering, energy and transportation sectors. It ranks on Staffing Industry Analysts' list of largest staffing firms in the US with $131 million in 2016 revenue, has repeatedly made the list of fastest-growing U.S. staffing firms and is a 10-time Inc. 5000 honoree.
"I started my staffing career in Huntsville, and opening our Huntsville location has been a long-term goal of mine," said Wolitski. "UAH and the city of Huntsville played a big role in helping define me as an individual. I want to drive economic growth and create jobs as a way to say thank you to the Huntsville community."
Leading the Huntsville location for The Select Group is Jared Ross, another former Charger. Ross returns to his hometown after retiring from his professional hockey career. "I'm excited to establish The Select Group, get our name out there, and make a positive impact in the community," said Ross. "And I'm happy to be back." He looks forward to creating new job opportunities in the place where he was born and raised.
Bringing Jobs & Business to the Local Area
As the TSG Huntsville team looks to expand their clientele in the community, Ross and team are focused on networking with key contacts and creating the award-winning relationships The Select Group is well known for establishing in the industry.
A major focus for the growing Huntsville team will be supporting government agencies with help from TSG's Washington D.C. branch. "We look forward to partnering with government agencies and corporations in the area, creating jobs for individuals and managing projects for their clients," said Ross.
Giving Back to the Community
Wolitski's half a million-dollar commitment to the hockey program is an effort to strengthen and solidify the hockey program at UAH. "I want to express the gratitude I have for UAH hockey, UAH faculty and the Huntsville community. They shaped me into the person I am today," Wolitski said. "The decision to come to UAH and Huntsville was a defining moment in my life and I'm so grateful for that. I wouldn't be where I am today if it wasn't for the people in this community."
Wolitski was a member of the UAH Chargers' hockey team from 1992-1996, and helped lead the 1995-96 team to the national championship – the school's first NCAA hockey championship. Jared Ross' father, Doug Ross – UAH men's hockey coach from 1982-2007 – was an influential figure during Wolitski's college hockey career. "My whole life revolved around hockey," said Wolitski. "The lessons I learned while playing for Coach Ross and UAH have helped instill my business philosophies of teamwork and passion."
Because of the gratitude he has for Coach Ross and the program, he's committing an additional $10,000 directly to the Coach Ross Suite at Spragins Hall on the UAH campus. The suite will be used daily by the UAH coaching staff in honor of Coach Ross. The funding provided by Wolitski will benefit the UAH hockey program and provide amenities such as uniforms, equipment, travel, recruiting, nutrition and fitness for players and staff.
About TSG
Founded in 1999, The Select Group is headquartered in Raleigh, N.C., with branches throughout North America, including Atlanta, Ga.; Boston, Mass.; Charlotte, N.C.; Columbus, Ohio; Dallas, Texas; District of Columbia; Greensboro, N.C.; Huntsville, Ala.; Minneapolis, Minn.; Raleigh, N.C.; San Diego, Calif.; San Jose, Calif.; and Toronto, Ontario. TSG's technically-trained staff of recruiters and account managers are focused on building relationships to improve client business flow.
With three solutions for connecting great companies with quality talent, TSG offers managed solutions, direct placement, and contingent staffing. The award-winning firm has been recognized as an emerging leader within the industry by landing on Staffing Industry Analyst's (SIA) Fastest-Growing US Staffing Firms list five years and counting, as well as making SIA's 2016 Largest Staffing Firms list and earning consecutive awards for Best of Staffing.
To connect with The Select Group Huntsville location, contact Jared Ross at 256-217-5486.