Introduction to Camtasia Studio with Dan Vasconcellos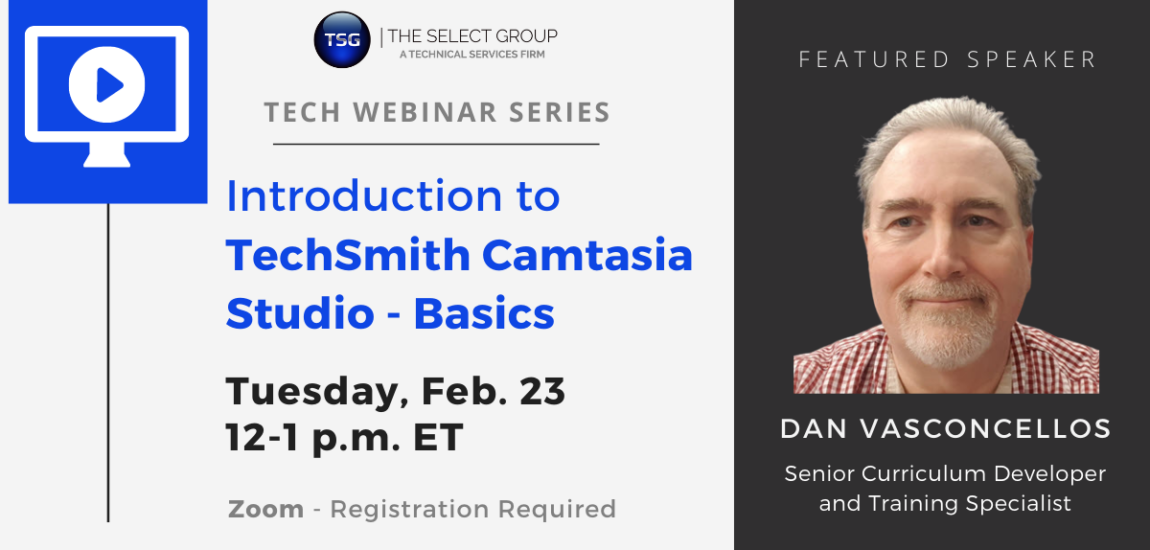 Event Information
You're invited to join the next event of our technical webinar series, Introduction to TechSmith Camtasia Studio – Basics. Featuring speaker Dan Vasconcellos, Senior Curriculum Developer and Training Specialist, this webinar will provide you with an introduction to TechSmith's Camtasia Studio, how to get started and what you can do with Camtasia, exploring the Camtasia Editor Interface, and demonstrations using Camtasia recorder.
Overview
The Camtasia Studio software can be used to produce and render out professional video tutorials and presentations. You can easily demonstrate marketing tools, record software applications, PowerPoint presentations, and web camera videos. Learn how to use the Camtasia Editor to edit your recordings with professional polish, and enhance for emphasis. After learning the basics of this tool, you'll be able to share crystal-clear videos at any screen size, any computer screen, portable devices like cell phones and other mobile devices, and burn to DVDs/CDs.
Along with professional uses, Camtasia can also be used for fun and personal events! Create and share videos for celebrating big family events, weddings, birthdays, graduations, end of life celebrations, and much more.
Key Takeaways
The key to success when using Camtasia Studio is to learn the basics. Then, use your imagination to make professional-looking projects, and distribute easily to your clients and co-workers. To get some ideas for producing quality Camtasia products, simply Google "camtasia sample projects" and explore!
The webinar will take place on Tuesday, February 23 from 12-1 p.m. ET. You must register in advance to join this session. After registering, you will receive a confirmation email containing information about joining the meeting.

> Interested in hosting a tech webinar?
Please contact Experience@selectgroup.com and tell us about your topic of interest.