Making an Impact as an Intern
Publish Date
August 8, 2019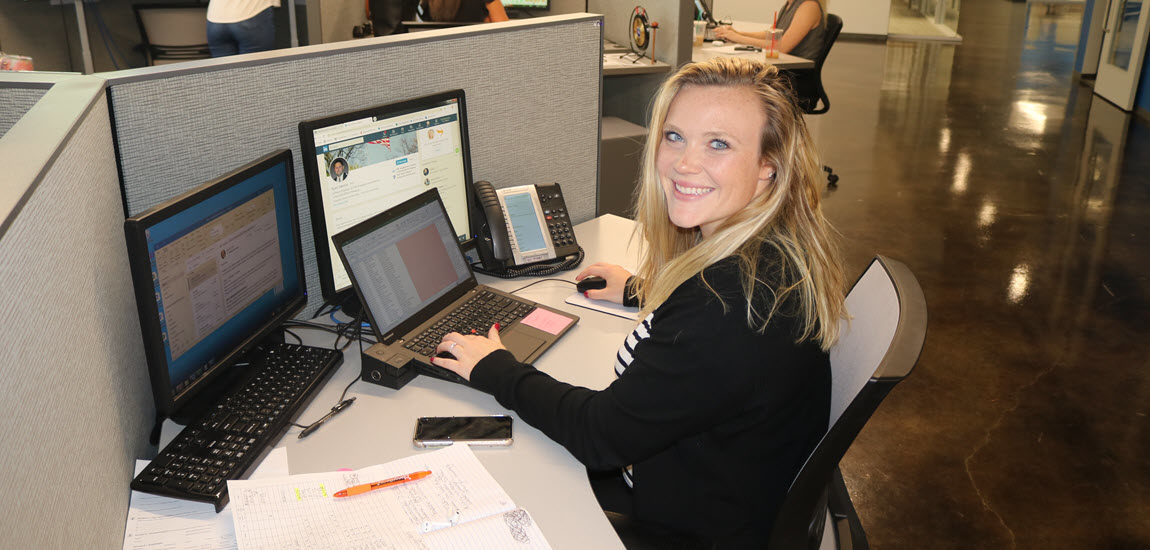 Written by: Skylar Johnston, TSG intern and senior at NC State University
Sheldon Wolitski, founder of The Select Group (TSG), established the company based around the mantra of, "impacting lives, one positive experience at a time." If I could sum up my internship experience at TSG in one sentence, this would be it.
Throughout my 10 short weeks at The Select Group, I have accomplished so much more than I could have ever imagined and made an impact I won't soon forget.
Making an Impact Through Relationship Building
Walking through the glass double doors at TSG headquarters in Raleigh on the first day gave me such a rush of emotions. I was excited to start my internship but also extremely nervous. TSG welcomed all its interns with open arms, making us feel like a part of the family.
The first half of my workday was spent in what's called 'the Raleigh pit.' This is an open recruiting space that allows collaboration between recruiters, account managers, and upper management. Sitting in the middle of this organized chaos revealed my competitive side. I called IT candidates and submitted over 25 job seekers for interviews with local hiring managers. Seeing the impact that I had on these candidates and their job search was gratifying.
The value, both monetary and intangible, that I contributed to The Select Group had not gone unnoticed, even as an intern.
Each day, after lunch, I transitioned to working with the corporate side of the business, supporting several projects impacting the organization. The first assignment I completed this summer was not only extremely rewarding to finish but also a major financial driver for the company. I helped the Executive Vice President of Sales & Delivery, Zach Earls, with a critical data project focused on researching historical candidates. This allowed each of TSG's 12 locations across the US and Canada to reconnect with their first consultants, reopen accounts, and create relationships with new companies through old friends.
Next, I had the opportunity to shadow Nicole Hayes, Raleigh Account Executive for strategic accounts. While out on the road with Nicole, I sat in on lunch and dinner meetings that allowed her to understand client pain points and business initiatives.
I saw first-hand how relationships are built through constant networking and nurturing contacts.
The Select Group values development and continuous learning, and this was reflected in the internship program. Even after our first week of training, we continued performing role plays and shadowing various aspects of the company. Each month we had 'lunch-and-learns' with different executive leaders at the office. Plus, free lunch never hurts – especially when the resident chef/Director of Procurement & Logistics, Howie McEachern, is cooking!
Mixing Passion and Business to Make an Impact
My internship also offered me the opportunity to learn and grow in two areas I'm passionate about:
Human Resource Management
As a college student studying human resource management, I've become passionate about leading people through positive coaching and reinforcement. I shared my long-term goal of management during my weekly one-on-one meetings, which TSG embraced by coordinating a few days for me to sit in on the daily activities of a branch leader. I had the opportunity to shadow the Director of Branch Operations, Kelly Dominguez. Kelly was also covering an employee's book of business that week, so I got to see more account management tasks, as well.
Women's Rights in the Workplace
From my experience participating in the Women in Business (WIB) Club at NC State, TSG tasked me with finding and curating new content for the Women in Business program here at The Select Group. I worked closely with Missy McCormick and Leigh Wallace Dodd, founders of WIB at TSG, to give fresh input for women across the company. They gave me free rein to create themes and important talking points to consider for the 2020 program.
I, alone, had the ability to impact so many women at The Select Group by giving them an outlet to talk about issues women face in the world of work.
Full of Gratitude
There are not enough words to describe how thankful I am for this experience as a summer intern. The Select Group has impacted my life in more ways than one. I have met friends, colleagues, and mentors that I will cherish forever. I have a platform to impact lives even after my 10-week program ends and I head back to school this fall.
I've had the opportunity to grow, both personally and professionally, while having fun doing so. The Select Group has set the bar high regarding company culture and experience. I can't imagine spending my summer internship anywhere else.
About Skylar
Skylar Johnston is a rising senior at NC State University from Virginia Beach, Va. She's pursuing a bachelor's degree in business administration, focused on human resource management. Skylar is also a starter for the women's softball team at NC State. She led the team in doubles with 10 on the 2019 season and tallied 11 multi-hit and six multi-RBI performances during her junior campaign. Additionally, Skylar loves to paint and travel.