Four Reasons to Make a Career Switch to Technology
Publish Date
January 5, 2018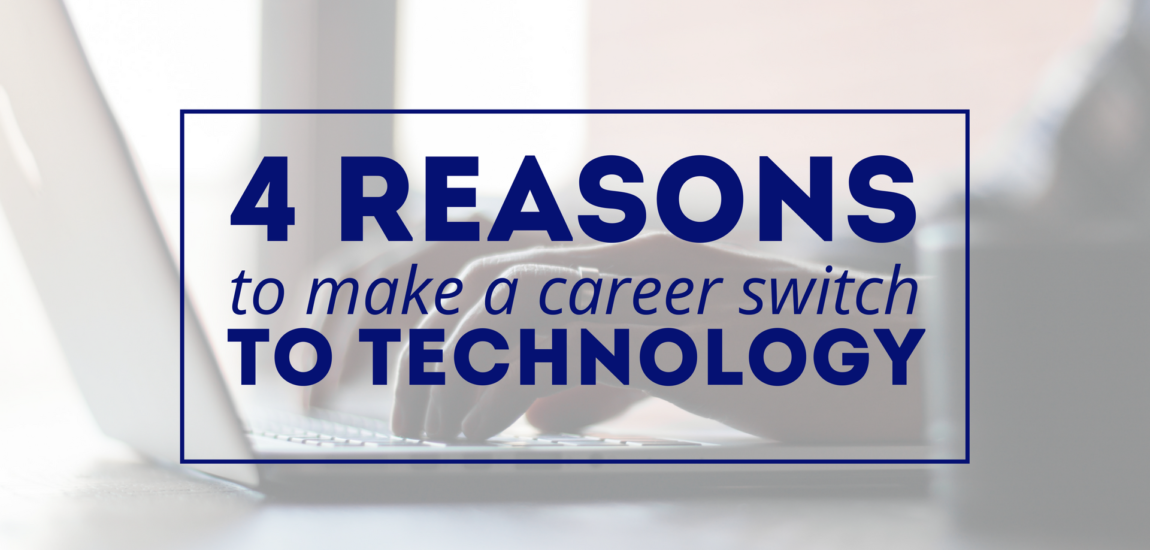 Your career is the thing you'll spend most of your time doing. You want to be somewhere you're valued, somewhere you know you're doing important work, somewhere you feel you're being challenged. If what you just read didn't ring a bell, it could be time for you to consider making a career switch. Here are four reasons why switching to tech is a great way to start 2018.
Job availability
Leaving what you've known for so long can be difficult. It's understandable – you feel like you're exchanging certainty for the great unknown. Luckily, the consistent availability of tech jobs in the U.S. means that you can be almost certain that there will be a job waiting for you should you take that "leap of faith." According to CompTIA, the tech sector makes up roughly 8% of the US economy, and nearly 7 million tech workers are employed in the US, as of 2016.
Not only does the tech sector currently make up a big chunk of our economy; it's also growing rapidly, adding more jobs each year. America's tech payrolls grew nearly three times faster than the nation's overall pool of employees in 2016. And the year still ended with more than 626,000 vacancies in the tech sector.
So, there's no reason to let fear of not being able to secure a job keep you from switching from your current field into tech. Feel like you want to get your hands on one of those tech jobs and get started in a meaningful career? Our next reason lays out what to do next.
Ease of obtaining certifications
If the fact that you'll be able to quickly find a job opportunity in the technology field wasn't enough to convince you, consider this: making a career switch often involves leaving your full-time position and heading back to school for years of education before you see your first pay check. But with many roles in technology, you can get started quickly. Employers value specific skill sets that can be mastered with shorter-term certificates rather than four-year degrees.
The Select Group offers discounted training through the world's leading IT and business training provider: Global Knowledge, offering nearly 3,000 courses that span foundational specialized training & certifications – both online as well as in 150-plus training centers across North America. Courses cover everything from agile and scrum to cloud computing and big data.
Job security
But you're not just worried about how easy it is to get started – you want to know whether your career switch to tech will last. Technology careers check off that box, too. When tech businesses grew in 2016, it was the fifth year in a row that they had done so. Plus, all but three states saw an increase in the number of tech companies, a total of 492,550 new businesses.
"Tech sector employment outpaces other notable segments of the economy, including construction, finance and insurance, transportation and warehousing, and arts, entertainment and recreation," said Tim Herbert, senior vice president for research and market intelligence at CompTIA.
The fact that thousands of new tech companies are coming onto the scene each year is good news for two reasons. First, it means that the industry as a whole is constantly growing – offering lots of opportunities for you to advance within the company that employs you. Second, it ensures that even if your first job in your tech career ends, you'll have no problem finding other great opportunities.
"Digital transformation continues to be a driving force," Herbert said. "Organizations of all sizes are embracing cloud-based technology solutions, expanding their mobile presence, fortifying cyber defenses and driving decision-making through advanced data analysis."
Competitive salary
Tech careers stand up to the tests of job availability, ease of getting started, and job security for the future. If these were the only three reasons, we wouldn't have written this blog. However, the up-sides to a career in technology don't end there. The potential earnings for someone in this field bring it all together and make it hard to pass up.
Get this: the average annual salary for a tech industry worker in 2016 was estimated at $108,900. For reference, that's more than double the average national wage of $53,040. Not only will you be upgrading your work environment; odds are you'll be upgrading your salary, too.
Ready to make the switch?
As we've mentioned, the field of technology is always adding new jobs. With so many opportunities to sift through, pinpointing the one that is an exact match for you will take lots of time and expertise. And you'll also want to be sure that you're putting your best foot forward as you go about making your career switch.
Luckily, The Select Group has got you covered in both those areas. Our talented career experts work with thousands of candidates just like you, providing the best possible experience and results.
Visit our Career Search to see open jobs available near you and in your desired expertise.