Eliminate Your Fear of Contract Positions
Publish Date
April 16, 2018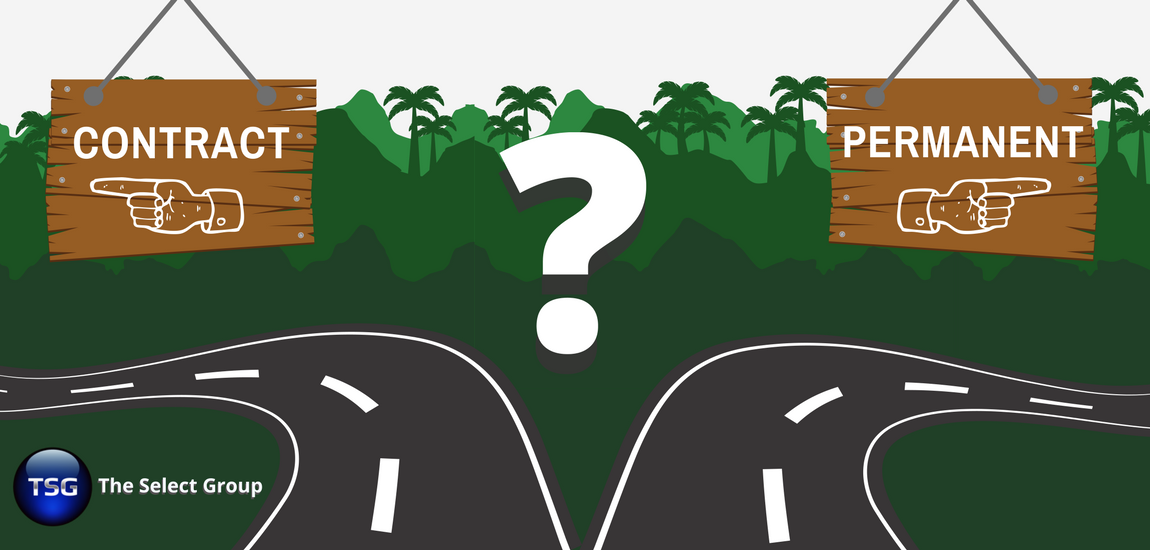 By Stephanie Wills
Have you ever seen a job post that you immediately clicked out of because it said contract position?
Me too. However, I've learned that contract jobs are not as scary as you might think. This blog will identify both pros and cons of contract work, and some of the benefits TSG provides to our contract employees.
Pros of Being a Contract Employee
Complete compensation for your time
Contractors get paid hourly. You work 50 hours, you get paid 50 hours. On the other hand, salaried employees are only paid for the regular 40hr work week, even if they go over and hit 50 hours (most do!).
"I love contracting. The pay is a direct reflection of the work I'm doing." – TSG Contract Employee, Course Content Specialist
Flexible pay
As a consultant for TSG you'll get paid every week, so each Friday there's a paycheck hitting your bank account!
Contractors and their recruiters are often more likely to negotiate a higher pay rate, especially for a short-term contract position. The shorter the contract, the better the pay rate. Who wants to work for 3 months at $60 an hour? (To put that in perspective, for 45 hours per week, that adds up to $32,000 in 3 months.) ME!
Down to the nitty-gritty of your compensation: the company only pays for the time you work, meaning you won't get paid for holidays (unless you're on the clock), but, if you're interested, TSG has an optional PTO package! You also may not have access to the gym inside the company building (but who even goes in there anyway?).
Opportunity to quickly grow your skill set
Don't want to be a Help Desk Technician forever? Ok, let's find you a job that you might enjoy more, now that you have basic help desk experience under your belt and down on your resume. Contract positions can help you quickly build a portfolio in a skillset you are hoping to grow in without a long-term commitment to one role.
Dedicated end-of-contract support
Your resume will never be put through an automated system again. Not only does your TSG recruiter help make sure your resume is spit-spot, they also hand your resume directly over to the manager who you will work for. TSG already has a relationship with the company, and specifically with the manager, so when we hand your resume to them, they also get a full explanation on why YOU are the best person for the job.
A personal career cheerleader
TSG Delivery Managers (recruiter) are only talking to you, their consultant. The TSG Account Manager will be the one talking to the company who has a position to fill. This lets your recruiter focus directly and fully on you, their consultant, and not be focused on what the company is asking for. Your recruiter will be able to explain how you are the correct person for this position, even if you may have different skills than another top competitor.
Cons of Being a Contract Employee
You may not get all the bells and whistles, like benefits. But lucky for you, if you are contracted through The Select Group, we do offer those bells and whistles if you want them.
If your contract is 5 months, it's possible that the manager will extend it, if there is need to keep you on, or it's possible that it will end exactly at 5 months. But your TSG recruiter will already be trying to find you another job.
"I'm reaching out to my consultant a month before their current contract ends to get started finding them their next opportunity." – Nicole Sangid, TSG Recruiter
The uncertainty of knowing if you will have another job after your contract ends. There is usually a possibility of the manager extending the contract or finding a new job that needs doing within the company and changing up your contract. Companies don't want to lose good talent!
What The Select Group Does for You
The Select Group empowers you to reach your professional goals. We leverage our connections to market your skills and open doors to opportunities where you can make an impact. With TSG, the sky's the limit.
Submit a resume with TSG, or look through our current job openings.
About the author:
Stephanie Wills is the newest member of TSG's communications team in Raleigh, N.C. She graduated with a Bachelors of Fine Arts in Photography and has worked in PR, marketing, and communications since 2015. Outside of work, Stephanie enjoys watercolor painting and traveling.