TSG wins top partner award from Cisco Systems, Inc.
Author
Stephanie Cashwell
Publish Date
November 13, 2017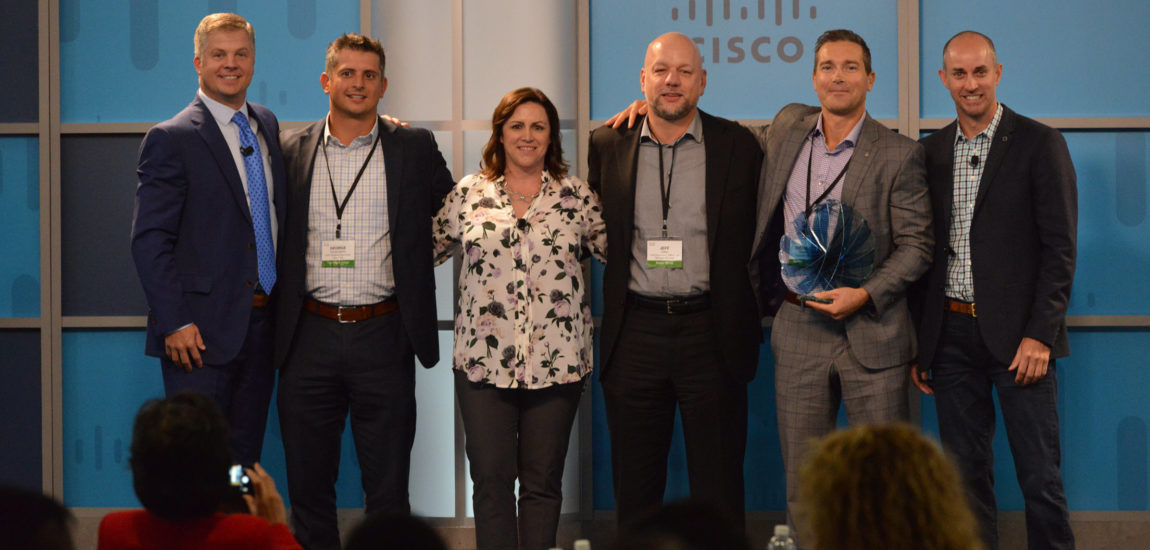 Pictured at Cisco's annual supplier day event on October 11, 2017, from left to right:  Ted Baumuller, Cisco vice president – global procurement, George Karakostantis, TSG executive vice president, strategic accounts and operations, Alex Lopez, Cisco chief procurement officer, Jeff Zirker, TSG chief experience officer and vice president, managed solutions, Sheldon Wolitski, TSG chief executive officer and founder, and Kevin Bandy, Cisco senior vice president, chief digital officer. (Cisco Systems Inc. Photo) 
2017 Supplier of the Year
At its annual supplier day event, Cisco's Global Procurement Services team presented awards to suppliers in a number of categories, including excellence in quality, partnership, innovation, service, diversity, and cost. The Select Group was selected for the 2017 Supplier of the Year award, presented to the supplier with the overall highest rating among peer suppliers.
"TSG has been a committed supplier to Cisco for more than eight years. We appreciate the positive relationship that has developed between our two companies. In this partnership, we have been honored to work with Cisco on innovative service delivery, accelerated by our focus on the customer experience. This award validates the approach we take with our esteemed clients and paves the way for increased collaboration with Cisco," said Sheldon Wolitski, Chief Executive Officer & Founder of The Select Group. "We are committed to Cisco's digital and security initiatives, and to ensuring success for all of their business units through best-in-class staffing, project, and managed solutions capabilities."
Expanding TSG's Portfolio
The Select Group expanded its service portfolio beginning in 2015 to include project and full managed solutions in application development, infrastructure services, and workforce transformation. "Our ability to serve the diverse needs of Cisco's business units has been greatly enhanced by our new offers," said Jill Harlamert, TSG Chief Services Officer. "Providing a broad service portfolio helped Cisco address business requirements beyond traditional staffing arrangements, as we were able to align our services to their specific global procurement requirements."