TSG Recognized for Continued Growth
Publish Date
October 9, 2018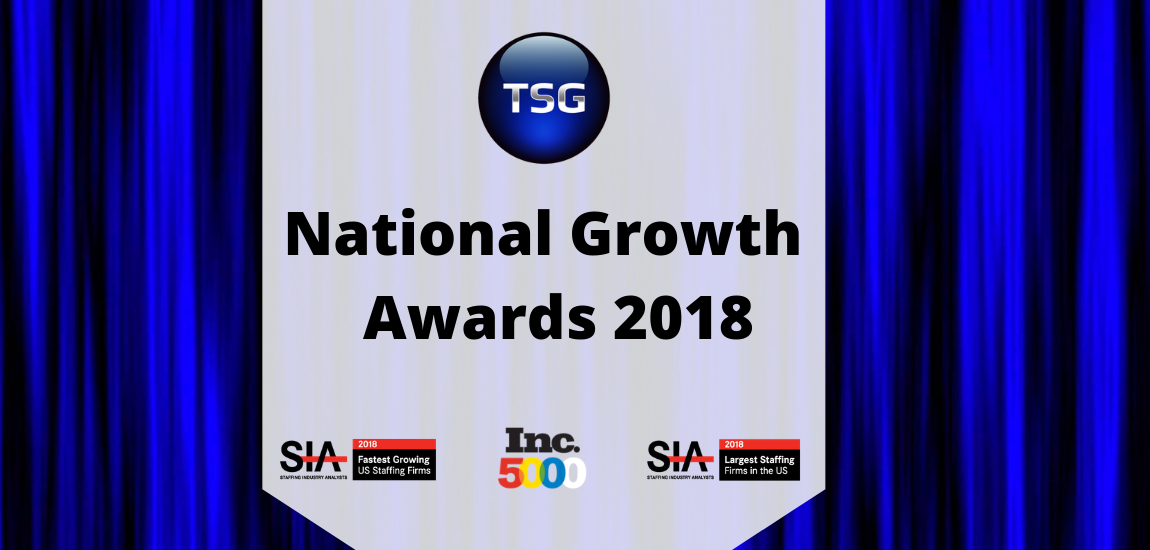 The Select Group is proud to announce several 2018 awards for national growth. The recognition includes:
Staffing Industry Analysts' list of Fastest-Growing US Staffing Firms for the 8th consecutive year
Staffing Industry Analysts' list of Largest US Staffing Firms for the 3rd consecutive year
Inc. 5000's Fastest-Growing Privately Held Firms in the US for the 12th consecutive year
Rapid sustained growth
Our CEO, Sheldon Wolitski, founded TSG in 1999 with a vision to provide a higher level of experience to career seekers and companies looking for a hiring partner. Fast forward 19 years later and our company is thriving – adding new divisions and service offerings to meet the needs of our expanding customer base, while being recognized on top industry lists for continued growth.
"What differentiates TSG is its ability to maintain the organic growth in this widely competitive industry," said Wolitski. "By bringing in outside experts to help build dedicated managed solutions and government services divisions, we have continued to expand our client offerings without mergers or acquisitions, allowing us to maintain the unique culture that's gotten us to where we are today. This has been an incredibly humbling journey, and I can't wait to see where the growth takes us."
Expanded offerings
From placing job seekers to delivering business outcomes
In early 2017, Jill Harlamert, Chief Services Officer, joined to expand our in-house solutions team. TSG Managed Solutions now has contracts with many Fortune 250 companies. We provide solutions such as security, project management as a service (PMaaS), creative services, quality assurance (QA), infrastructure, and electrical engineering.
Prior to joining TSG, Harlamert served as VP and General Manager of North American Project Solutions for ManpowerGroup Experis, VP of Managed Solutions of COMSYS Information Technology Services, and Dean of Engineering Technology at Devry University.
Dedicated services for government clients
The Select Group Federal, LLC., launched in 2010, based out of our Washington D.C. branch. Today, TSG Government Services has grown to partner with North American customers, providing a range of professional to managed solutions at all levels. Dedicated TSG government teams invest the time and energy to better serve customer's needs through long-term relationships.
TSG recently added a dedicated industry leader for this division: Brian McMeans. McMeans joined our team in April 2018 as VP of Government Services at The Select Group. Prior to entering the technical services industry in 2014, Brian served in the US Army and Army National Guard for 10 years and has extensive work in Veteran Affairs.
Technically-trained specialty groups
In 2017, we launched our specialty groups program to provide an added layer of expertise to the internal sales and recruiting teams. These individual subject matter experts can be a liaison between a highly technical hiring manager and TSG's recruiting teams. The team currently focuses on supporting infrastructure, applications, and digital hiring needs of the TSG client base.
A continued commitment to customers' needs
2017 Supplier of the Year Award
In 2017, Cisco Systems, Inc., awarded TSG its highest partner honor: 2017 Cisco Supplier of the Year award. We were selected as the supplier with the overall highest satisfaction rating among peer suppliers.
"TSG has been a committed supplier to Cisco for more than eight years. We appreciate the positive relationship that has developed between our two companies. In this partnership, we have been honored to work with Cisco on innovative service delivery, accelerated by our focus on the customer experience. This award validates the approach we take with our esteemed clients and paves the way for increased collaboration with Cisco," said Wolitski. "We are committed to Cisco's digital and security initiatives, and to ensuring success for all of their business units through best-in-class staffing, project, and managed solutions capabilities."
Diamond award win for client satisfaction
It's been a full year of continued award wins for our team. In February of 2018, we earned the Client Diamond Award after winning Best of Staffing Client Award for five consecutive years. TSG also earned our third Best of Staffing Talent Award for satisfaction among consultants. Both awards were determined based on overall satisfaction scores from TSG's 2017 clients and consultants. On average, clients of winning agencies are 2.3 times more likely to be completely satisfied with the services provided compared to those working with non-winning agencies.
"I'm proud of TSG's rapid growth, expanded offerings, and our continued commitment to meeting and exceeding customer needs," said Wolitski. "The recognition we've received for our growth is humbling, but we have our sights set on continuing to fulfill our purpose of positively impacting the lives of our clients, consultants, and employees."