The Select Group Earns Top Honors as 8th Fastest-Growing Company
Publish Date
December 13, 2019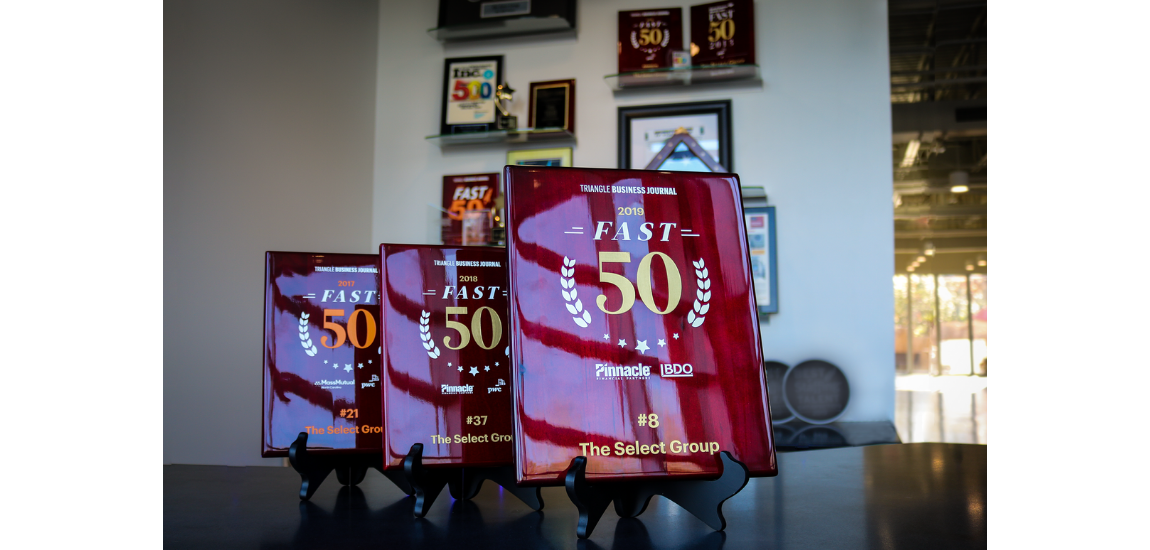 We are proud to announce TSG has once again broken into the top 10 with an eighth-place spot on Triangle Business Journals (TBJ) 2019 top 50 fastest-growing private companies headquartered in the Triangle.
Rankings for the TBJ Fast 50 are based on revenue growth and profitability over a three-year period. The Select Group has grown, on average, 133% per year over the last 9 years. This win marks The Select Group's 11th consecutive year earning this prestigious award.
"Continued growth and recognition of TSG within our largest market would not be possible without our people," says CEO & Founder, Sheldon Wolitski. "We dedicate valuable resources to develop a strong, nationwide team of high-performers and in turn, they foster meaningful, long-term relationships with our clients and consultants. We know relationships are everything in business, and this is how we consistently rank above top competitors in the market."
Raleigh was recently announced as the number two "tech town" in the US by CompTIA's annual survey.
About TSG
Headquartered in Raleigh, North Carolina, TSG has seen unrivaled success since our conception in 1999, with 12 branches across North America. TSG's technical service offerings have advanced into a full suite of capabilities, including project-based resources, talent management solutions, hybrid managed solutions, and fully outsourced managed solutions, as well as a dedicated government services division to meet clients' needs in the federal sector.