How to Thrive in the Experience Economy
Publish Date
September 14, 2017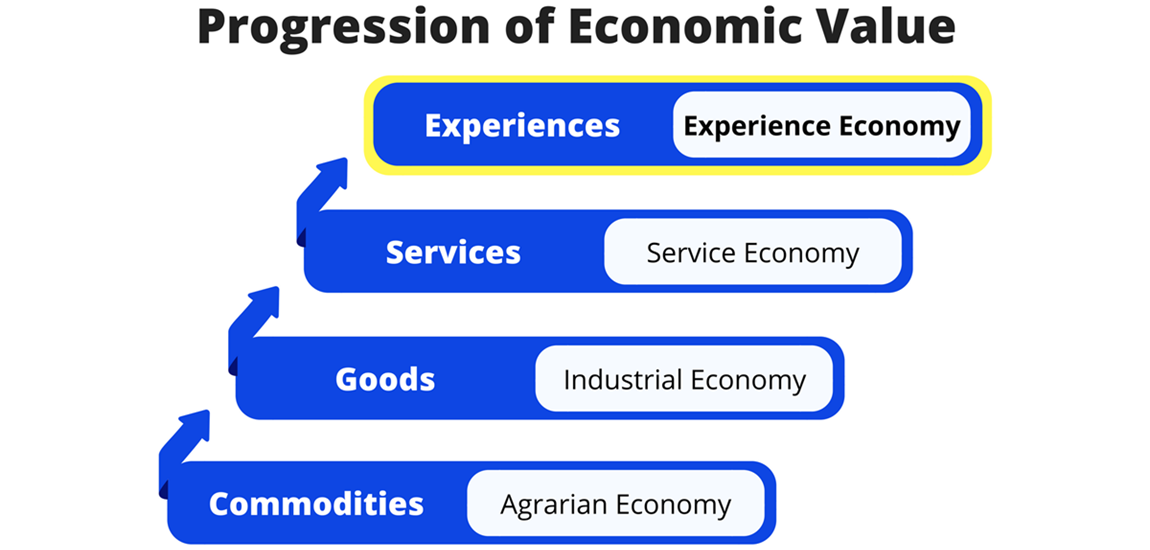 In their 1998 Harvard Business Review paper "Welcome the to the Experience Economy," Joseph Pine and James Gilmore said this: "An experience occurs when a company intentionally uses services as the stage, and goods as props, to engage individual customers in a way that creates a memorable event."
As distant as 1998 may feel to some of us, Pine and Gilmore were clearly on to something. Consumers have been looking for more than just goods and services—we have been looking for experiences: memorable interactions that rise above the product or service being sold.
It's become increasingly simple for buyers to find what they are looking for, so the question is now why they choose a certain provider to give their business.
As Chief Experience Officer for The Select Group, I often hear from our clients, consultants and employees. They tell me how their engagement with TSG has evolved from a contract with a firm offering talent or a job, to an experience offering higher value, rewarding work, or an opportunity to pursue a challenging career. When the feedback is positive, it's often because of the experiences we provide, not because of the transaction details. When constructive criticism is provided, it's usually due to a missed opportunity to improve the overall experience.
This should not come as a surprise in today's world of expanded connectivity, social media impact and demographics . Buyers today are more sophisticated, more selective, and more engaged than ever before. With a few easy clicks on Yelp!, Glassdoor, Facebook and more, a company's reputation can be enhanced or diminished among customers the world over.
Geographic boundaries don't exist in the experience economy – virtual communities are leading the way in how customers share experiences and how companies thrive or struggle.
So what is a company to do in today's reality?
First, we must understand and accept that loyalty among customers is not necessarily rooted in the products or services we offer.
The cost of switching is diminishing among many industries: networking and technology, transportation and travel, consumer goods and services. We can shop online, customize our products, take delivery within hours or days, or "shop" for experts who are available online and engaged nearly instantaneously. Buyers are increasingly opting for the experience that is offered in addition to the goods. Concierge services, try-and-buy periods, sellers offering experience guarantees.
If your goods or services aren't enhanced by a notable buying experience or value-add, be prepared for customer churn, increased employee attrition, or reduced market share.
Next, we need to train all employees on the value of the experience.
It's not enough to have sales staff talk about an experience or create a fancy new website. All lines of business need to be aligned to the experience you offer. Leadership, operations, customer success, finance, logistics and IT need to offer their own supporting experience to their unique stakeholders.
Gather your teams and talk about how their activities and deliverables enhance the company experience, and create new processes and incentives that directly support the higher experience goals.
Finally, keep constant vigilance on the impact of the experience you offer.
Gather feedback, review action plans, stay abreast of competitors and best practices. Constantly refresh those aspects of the experience that are falling short of goals or expectations. Hold everyone accountable for some part of the end-to-end experience.
Customer expectations for a premium experience will continue to evolve and may grow exponentially. Don't get left behind! If you believe Pine and Gilmore were ahead of their time, take note: Alvin Toffler, in Future Shock (1971) talked about the "experiential industry" when people would be willing to allocate more of their money to live amazing experiences. If you're not providing a path to enable these experiences, what are you waiting for?
---
This post is from our CXO Blog series, written by Jeff Zirker, our Chief Experience Officer (CXO). See the rest of his collection here.
About the Author:

Jeff Zirker started with TSG in 2015 after more than 22 years with a leading U.S. technology company. His passion for people has led to the implementation of new processes and programs across the company designed to enhance customer experience. No stranger to adventure, Jeff once spent two weeks on an uninhabited Hawaiian island.
Categories
Culture and Experience, CXO Series
Featured Links