The Positive Impact of Military Veterans in Company Culture
Publish Date
November 7, 2019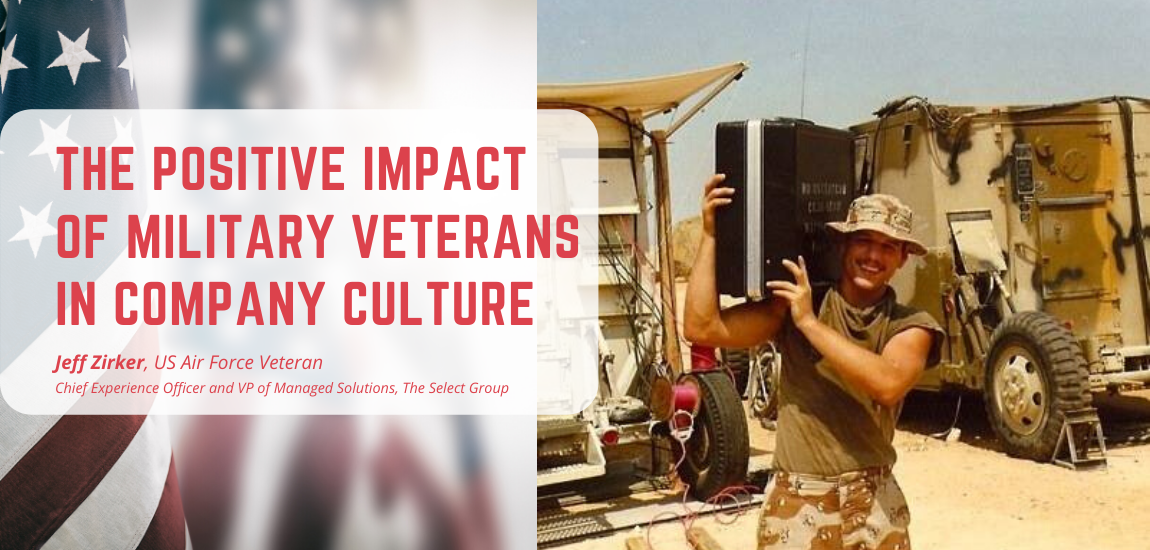 "Veterans contribute to American society in many ways; not just during their time in active duty. Throughout our history, military service members have put on their uniforms to protect the values and liberties that this nation was built on. But that doesn't stop once the uniform comes off and their time in active duty has ended. Veterans take the lessons they have learned and the experiences they've gained and continue their service to our nation by strengthening our communities. They become our nation's leaders, scientists, entrepreneurs. Veterans are the most active volunteers working to improve communities across our country. Service goes beyond the uniform. This Veteran's Day, we honor the men and women who have worn their uniform who continue to serve our country." – Military Benefits, 2019
My story
In 1983, I made a life decision that shaped the trajectory of my life in many ways. I was in my senior year of high school, undecided on my next step of life and learning. My dad and I had discussions about what I would do after school, and other than knowing I didn't want to head right to college, I had little to offer the conversation. I wasn't a stellar student, but I wasn't a troublemaker either. Unfocused and undecided, and trying to please my dad by "getting a job", I declared my intent to join the Air Force Reserves. It was the perfect solution – I'd have "a job" but I'd only have to "work" one weekend a month and two weeks during the summer. I bigheadedly proclaimed my plans to my dad, and rather than challenge me on my pursuit of full-time employment, he simply asked, "Have you thought about going into the Air Force full time?"
I've always been an impulsive person. I buy stuff at the cash register stands at checkout. I've bought some stocks based on nothing more than a whim or a feeling. I've hired people after a single short interview. I've contributed more of my treasure than I could probably afford, in support of a good cause. I'm a Kickstarter frequent flyer. Sometimes I do before I think. Okay, most times.
In general, this has worked out well for me over the span of my lifetime. I was living Malcolm Gladwell's Blink philosophy 20 years before it was published (I highly recommend his book!). Maybe I've been lucky. But that day, my lack of deep deliberation inspired a decision that placed me in a brother/sisterhood I will treasure for life. I joined the Air Force and became a military man, one that nearly ten years later, when I left active duty, made me a Veteran.
What I learned
My Air Force career was the beginning of lifelong learning, teamwork, personal development, and leadership lessons. As a young airman, I was given responsibility far above my pay grade (I volunteered – you know, the impulsive thing). I excelled at my job under the direction of some wonderful and humane Air Force leaders.
My fellow airmen were kind, whip-smart, committed, and some became lifelong friends. I was given the opportunity to work with new technology, in a few places I can't name, with a front row seat to some of the most courageous, talented warriors this nation has known. I learned professional skills, leadership skills, team skills, and more.
What I took with me
When I left the Air Force, I found that my skills were in high demand. Not necessarily for what I knew, though I'm sure that was part of it, but for what I had become. A mature, responsible, creative (re-branding of the "impulsive"), competent leader who found more joy in helping others succeed than in my own accomplishments. The 'small' company who hired me became a $50 billion company, who trusted me to take on increasing responsibility, and to play a part in their incredible growth and success.
Throughout that growth, I was validated time and again, that the experience I gained in the military had an important and influential place in the corporate world. This recognition of the value of Veterans in the workforce was life-changing for me. As my career progressed, I was reminded time and again by the Veterans I hired and worked with that we added real and tangible value to the culture of our company.
Why you should hire Veterans
This is my message for my readers. Veterans are an incredible net positive to a company's culture, performance and success.
They arrive with a predisposition for winning and for support for their co-workers.
They have been trained in technology and process and accountability.
They understand the challenges of business travel and the importance of showing up where and when they need to be somewhere.
They have often led teams of people in some very difficult situations.
They have addressed loss and failure through a lens of learning and recovery.
They are loyal.
If you don't have a Veterans program at your company, you are missing out on assets that can grow your success to new heights. As more Americans head toward retirement, our Veterans are poised to step in and ensure ongoing success in many industries across our country. Engineering, manufacturing, services, program management, digital transformation, security, and more.
If you have Veterans on your payroll today, thank you for seeing the benefits of this elite workforce. Enlist them (no pun intended) into Veteran support groups, where ideas for new programs and new employee experience initiatives can be born. Leverage them for employee referrals.
Thank you to all my fellow Veterans for your service to our country and communities and thank you to the companies who value Veterans as a critical piece of the fabric towards their company mission.
_____________________________________________________________________________________
About the Author:
Jeff Zirker started with TSG in 2015 after more than 22 years with a leading U.S.-based technology company. His passion for people has led to the implementation of new processes and programs across the company designed to enhance customer experience. No stranger to adventure, Jeff once spent two weeks on an uninhabited Hawaiian island.