Time to take a Shot: a Hamilton-inspired guide to giving digital presentations
Publish Date
August 26, 2020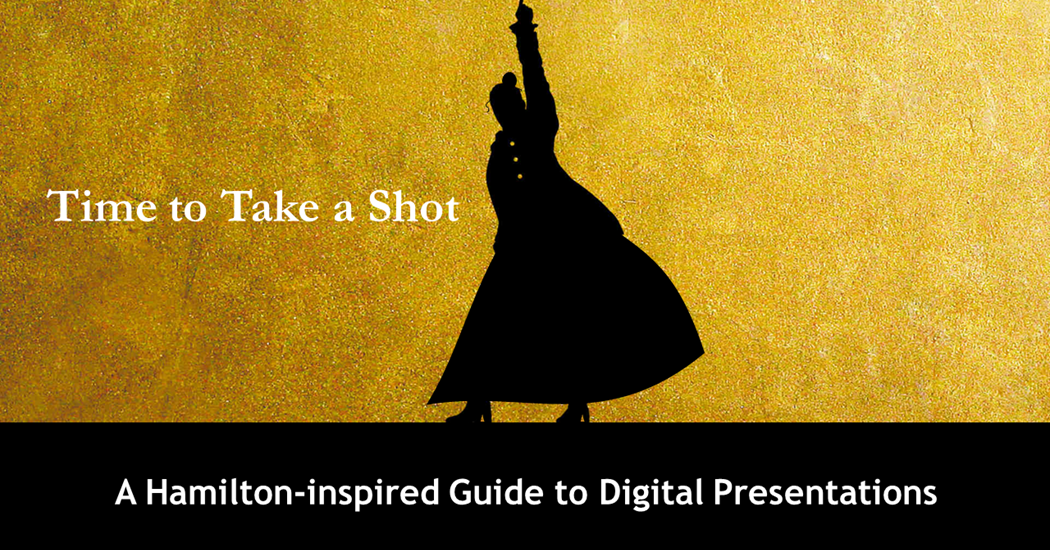 On #WomensEqualityDay, we celebrate women using their voice to share their story, educate others, and inspire those around them to continue fighting for their passions – just like Alexander Hamilton's plight in our culture's favorite new obsession: Hamilton – An American Musical.
If you're like me, you've listened to the Hamilton soundtrack more times than you're willing to admit, your Disney+ account keeps recommending content more like Hamilton every time you login, and you can't get "Da da dat dat da" out of your head – no matter how hard you try.
So, let's use our unyielding love for this Broadway smash hit and remind ourselves the keys to success when giving a stellar presentation that leaves your audience wanting more.  I call these "The 10 Prez Commandments."
#1: A-yo it's time to take a shot ​
UGH – you have to give a presentation. Your stomach turns at the thought of having to get up in front of people and speak. But let's look at it from another perspective: ​
Are you working towards a promotion? ​
Are you passionate about talking with co-workers or leadership to show them your skills and how valuable you are to the team? ​
Do you have a topic that you've thought tirelessly about, researched and want anyone and everyone to hear your perspective on? ​
Well then this is the time to shine. It's YOUR chance to take that shot! Look at this as an opportunity to tell your story. If you're not comfortable public speaking, it's a chance to get out of your comfort zone and tackle a new skill. ​
I challenge you to flip the narrative you have created in your head about this dreaded speaking requirement and turn it in to your next great challenge to conquer.  ​
Song-spiration: My Shot​
#2: Tell Your Story ​
Speaking of stories… The phrase "giving a presentation" just sounds boring. Think of presenting as having the opportunity to tell a story. We are a storytelling culture built on the desire to envision the experiences of the past and dream of our opportunities for the future. When you're building the outline for your presentation, use each section or slide as a building block to describe your topic in a meaningful way. This will help you capture your audience's attention, allowing them to better relate to the information being shared. ​
​
Don't be afraid to shake it up and have fun in how you relate the information, including using a theme or even Gifs to help tell your story. Which leads to our next commandment… ​
Song-spiration: The Story of Tonight
#3: Know Your Audience ​
Here's a story for you regarding the creator of Hamilton, Lin Manuel Miranda. In May of 2009, Lin was invited to perform for President Obama, his family, and members of his cabinet as part of the White House Evening of Poetry, Music, and the Spoken Word. He was originally supposed to present a number from his current Broadway smash hit: In the Heights. However, Lin knew his audience and used the opportunity to debut the opening number from his passion project, which was titled The Hamilton Mixtape. It became the first public performance of Alexander Hamilton… and the rest is history.​
​​
Song-spiration: The Hamilton Mixtape ​
#4: Building Your Content ​
Commandment #4 is about using your resources to build out and design your presentation. Aaron Burr offers Hamilton some great advice at the beginning of the musical. He tells Alexander to "talk less" and "smile more." Here's why I agree:
Don't over-stuff your slides with information! The worst thing you could do is have a full slide of text that no one can read, which will make your presentation much less interesting. When designing your PowerPoint, consider the slides to be a visual reference or enhancement to your main points. Photos, graphics, animations and videos are great resources to include. If you have to use text in your slides, keep it short, to the point, and use large readable fonts. Avoid using cheesy clip art and try to use high resolution imagery as much as possible. ​
​
Let's talk about displaying data: ​
This "spaghetti monster of a PowerPoint slide" was created to help win the war against Afghanistan. War commander Gen. Stanley McChrystal once joked when he saw the slide, "When we understand [it], we'll have won the war."  ​
​
If you are going to include any charts or graphs in your slides make sure to simplify them, keep the text as large as possible and use contrasting colors. Keep them basic and use only 1-2 max charts on a slide at one time. Be sure you're able to speak to the data and describe it during your presentation. ​
Song-spiration: Aaron Burr, Sir
#5: Speaking Tips​
Don't read – Honestly, look at me, please don't read!​
Don't read off your slides or rely on them fully to convey your points. Utilize the notes section in PowerPoint to drop in your script or talking points.​
​
Watch out – My dog speaks more eloquently than thee!​
Watch out for distracting vocal or facial tics, including the excessive usage of filler words (umm, like) during pauses or less-than-confident qualifiers​. Remember, it's better to be silent than to use a tic to fill the silence.
Slow​
Make sure you're speaking at a slower cadence than your normal conversational speech​.
Avoid – If you repeat yourself again I'm gonna Scream ​
Avoid repetitive language and grandiose hand gestures, as this can detract from your credibility and seem out of place in the context of a computer screen​.
Appearance​
Be mindful of your appearance, including appropriate dress and grooming, as well as your backdrop (clutter doesn't look good on camera) and check your room lighting on camera before joining the presentation room.  ​
Leverage your practice runs to help improve in these areas.
Song-spiration: Farmer Refuted
#6: The Room Where It Happens​​
​What video conference platform are you presenting on? Have you used it before? Are you comfortable presenting in it? Are you going to be dialing-in or using audio through your computer? Do you know how to share your screen and WHICH screen to click to share if you have multiple monitors?
These are all things you should be prepared for ahead of entering the video conferencing room on the day of the presentation. Fumbling at the beginning of a presentation with technical issues starts the whole thing off on shaky foot in a world where first impressions are everything. ​
​
Pro-tip: If you're dialing in on the phone and joining via video on the web, make sure your phone is synced with your name login. To do this, make sure to call-in using the access code or attendee ID to sync your logins.
Song-spiration: The Room Where it Happens
#7: Practice, practice, practice ​
Make sure you build in time for practice runs. Not just for presentations but for other events like customer meetings, tough conversations, performance reviews, etc. Ask a trusted colleague or family member if you can run through your talking points or slides beforehand to get all the kinks out. ​Running through a presentation in your head will not get you the face-to-face time you need to get comfortable. ​Try to record yourself presenting ahead of time. Leverage those recordings to improve before the big day. ​
Song-spiration: Non-stop
#8: Show time​
Yo yo yo yo yo! What time is it? Show time!​
Some people need help hyping up for a presentation and some people have to focus on breathing to calm down. Whichever your preferred method, it's important to get in the right mindset and allow yourself plenty of time for mental prep. ​
Make sure your internet connection is on point, your camera/mic are positioned, and above all else, try not to get flustered on camera if something goes wrong. Technical difficulties during video meetings are painful for everyone but can be amplified if the presenter goes into panic mode. Try to stay calm, cool, and collected while you or the moderator helps troubleshoot any issues prior or during the meeting. ​
Song-spiration: Aaron Burr, Sir
#9: Ask for feedback ​
Whether you come out of the presentation feeling triumphant or just "meh," give yourself some credit and gratitude for the work and effort you put into the event. If you're giving a group presentation, take some time with your group to reflect on any tough questions you faced during the Q&A, or any bumpy spots while delivering the information.
If you have access to a third-party that attended the presentation, be sure to ask them for feedback – both positive and negative.
Song-spiration: Satisfied
#10: There will be a next time ​
You didn't think I could go the entire presentation without mentioning everyone's favorite King George, did you?
When it comes to presentations, there will always be another one sometime in the future. Use your experiences – what inspired and what fell flat like a pancake – to shape your preparation for the next time around. If you have access to the recording, be sure to watch it; no matter how cringy it may feel hearing your own voice.
Take notes, tuck them away, and pull them out as you prepare for your next speaking opportunity. Because, "You'll be back, soon you'll see."
Song-spiration: You'll Be Back
In conclusion:
I hope you gained a few valuable tips from these "10 Prez Commandments." Next time someone asks you to present on a topic, instead of sarcastically saying:
You'll seize the opportunity to tell your story, step up, and shine:
Questions or comments on how you "WORK" it during digital presentations? I'd love to hear them via the form below. Or, if you are a fellow Hamilton-inspired nerd, I want to hear about that, too!
Stephanie Cashwell – Dir. Marketing & Communications at TSG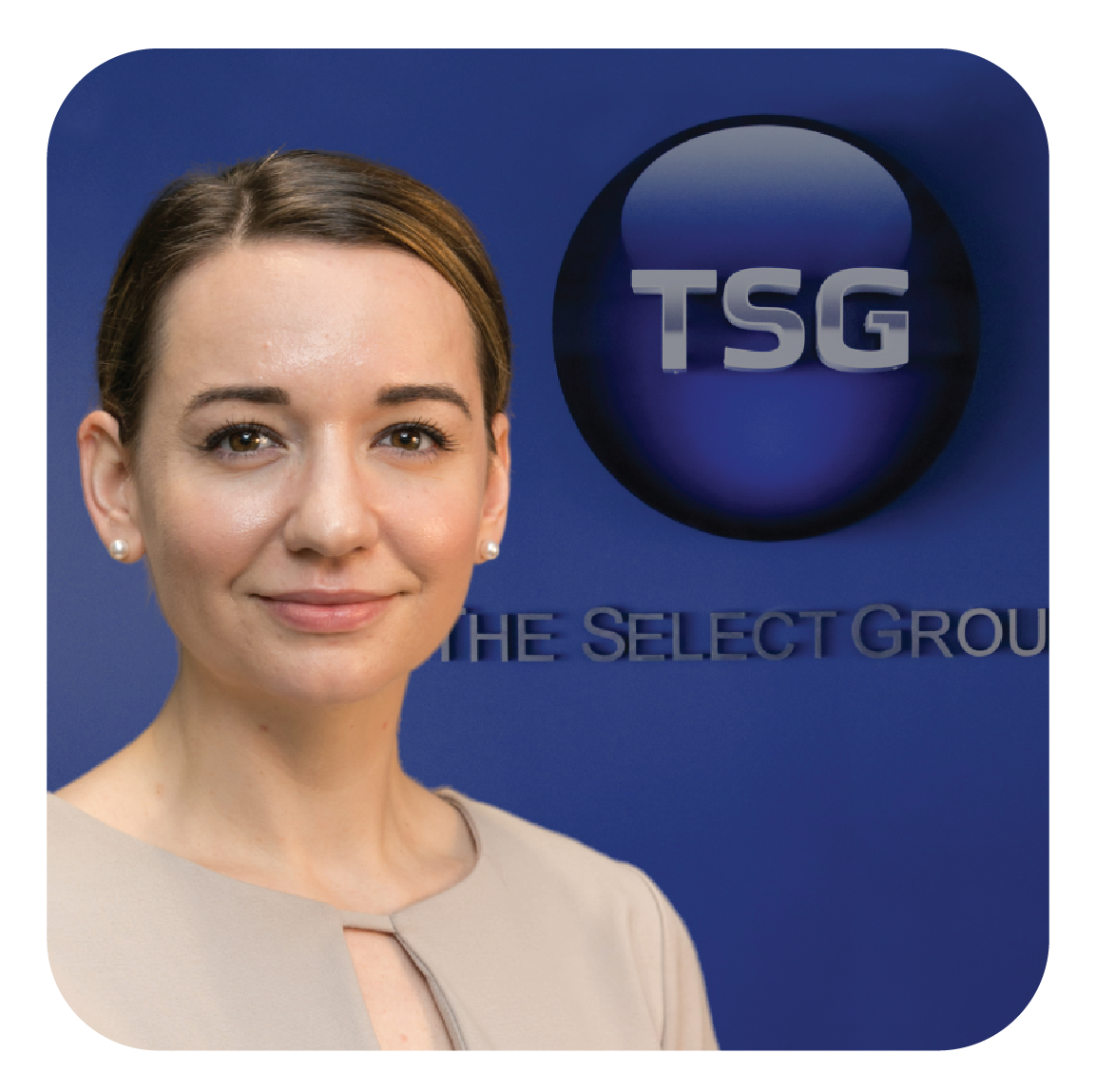 You can typically find Stephanie on her phone, looking for the next thumb-stopping piece of content. She's spent the last nine years in various tech communication leadership roles, including B2B and B2C marketing, corporate communications, public relations, and digital strategy. Since jumping aboard The Select Group's growth train in 2015, she's been building the marketing and communication department to enable communication and collaboration between the company and its stakeholders. When she's not behind her desk with at least three beverages and some kind of snack, she's watering her plants or reading a book with her fur-dorable pup, Lulu. Connect with Stephanie on LinkedIn.