Social Media Can Help You Get Hired—Until It Doesn't
Publish Date
June 29, 2017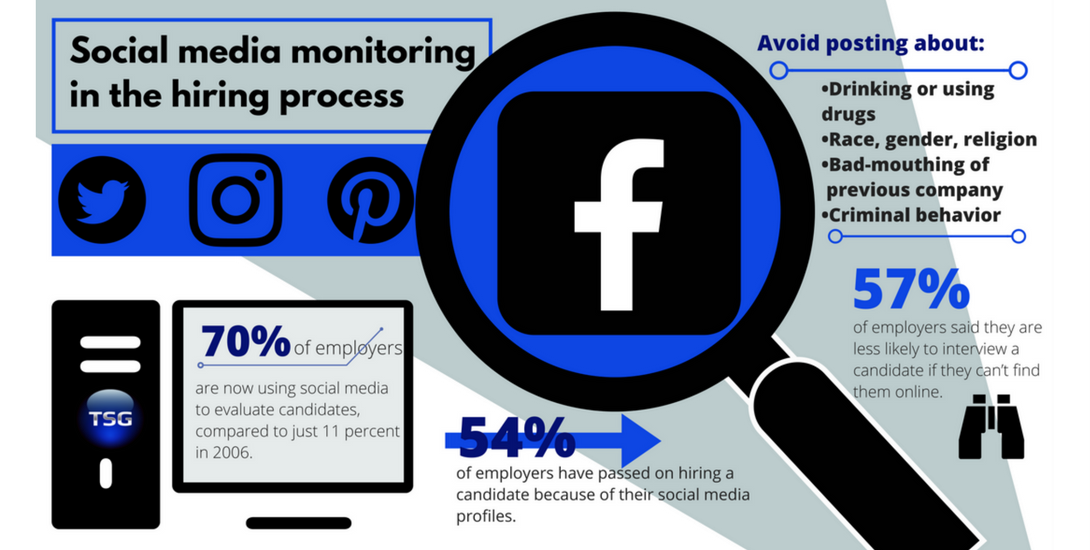 According to a 2016 Pew study on social media, roughly 68 percent of U.S. adults use Facebook, with Instagram at 32 percent, Pinterest at 31 percent, and Twitter at 24 percent. This is no secret to hiring managers, who are more frequently than ever turning to these platforms to evaluate candidates, CareerBuilder finds.
CareerBuilder conducted a 2017 survey, which included a sample size of more than 2,300 hiring managers and other private sector professionals.
Here are a few figures gleaned from the study to consider before clicking "publish" on that photo album from last night's festivities:
70 percent of employers are now using social media to evaluate candidates, compared to just 11 percent in 2006.
Half of the employers surveyed said that they check current employee's social media profiles, with more than a third saying that they have reprimanded or fired an employee based on inappropriate social media content.
57 percent of employers said they are less likely to interview a candidate if they can't find them online.
54 percent of employers have passed on hiring a candidate because of their social media profiles.
With those statistics in mind, what should candidates do to avoid getting in the way of their own hiring process? Don't delete your social media just yet. As mentioned above, employers are less likely to hire a candidate without an online presence.
So, the solution isn't to become an online Houdini; it's to be mindful about what you're posting and the kind of image you're portraying on your profiles.
Check out the top activities employers said caused them to not hire a candidate that you should avoid:
Posted provocative or inappropriate photographs, videos or information (39 percent).
Shared information about drinking or using drugs (38 percent).
Posted discriminatory comments related to race, gender, religion (32 percent).
Bad-mouthed their previous company or fellow employee (30 percent).
Lied about qualifications (27 percent).
Had poor communication skills (27 percent).
Was linked to criminal behavior (26 percent).
It also helps to change the way you think about policing your profiles. Not only could it keep you from losing a current job opportunity, it could lead to you having more opportunities in the future.
About 44 percent of employers reported finding content on social media profiles that led them to hire that candidate.
The top reasons profiles stood out were—from greatest to least—background information supporting professional qualifications, displaying communication skills, a professional image, and creativity.
So, yes, employers and hiring managers are monitoring your social media activities. Don't panic; take control of your online image. Ensure you're putting your best foot forward and own the responsibility that comes with the age of social media.