Publish Date
December 23, 2021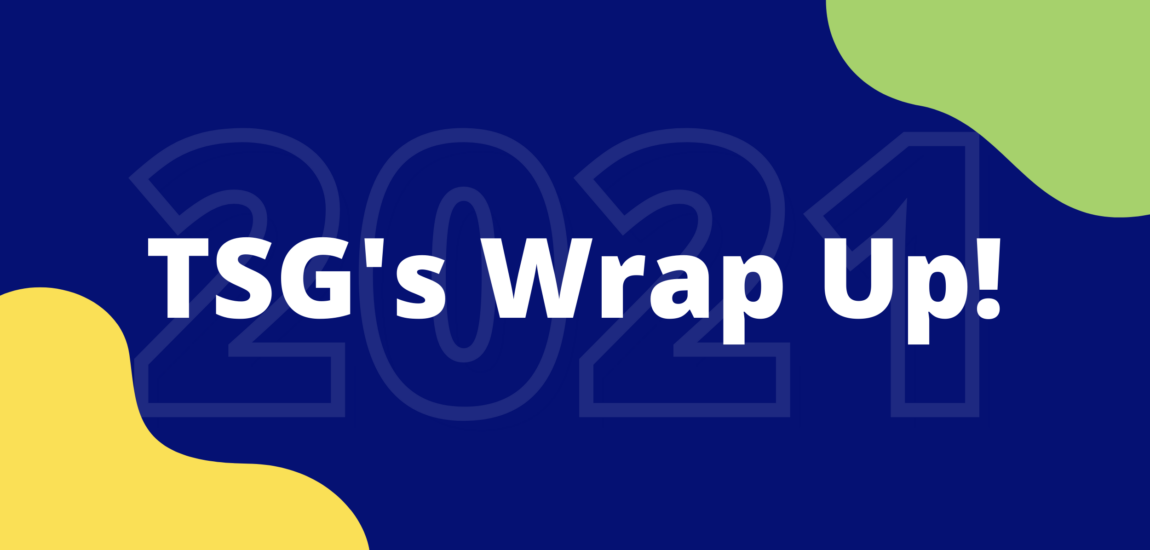 As we close 2021 with our most successful year in TSG history, we continue to be proud of the legacy The Select Group has created – from its origination in 1999 – to growing 200 million in revenue in the last 11 years.
We're unveiling our 2021 year in review to show you just how we accomplished this amazing milestone.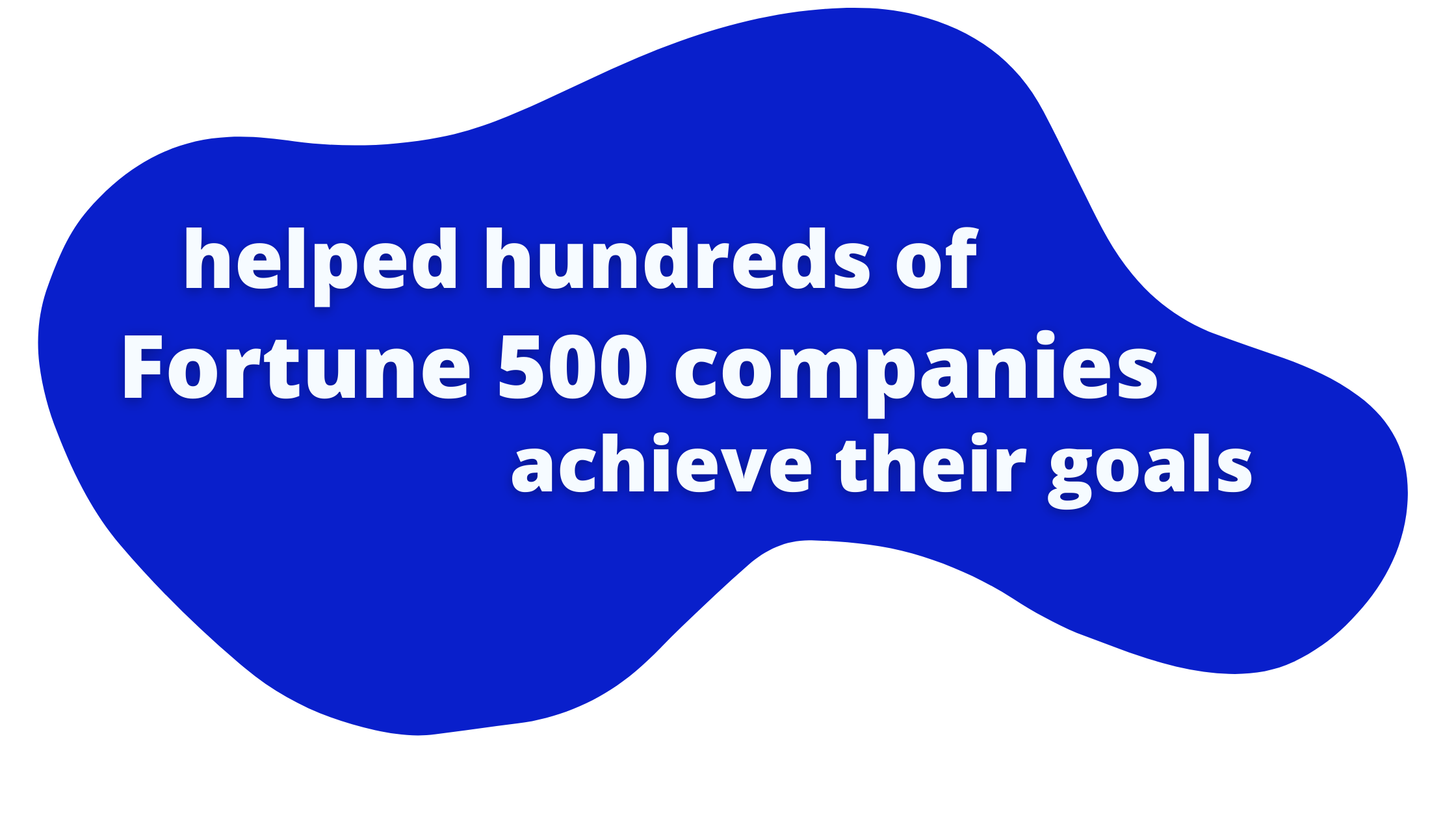 A Leader in Managed Solutions
The success of our clients is a top priority as we drive technology initiatives forward and complement organizational goals. This year, our account teams helped hundreds of Fortune 500 companies across North America achieve strategic objectives across some of today's most competitive industries. How did we do it?
As technology, security, and processes converged and heightened with the digital shift of our 2021 world, our Managed Solutions offering grew extensively across all the industries we support with a special emphasis on DevOps, project management, data and analytics, e-learning, help desk services, data center, 5G, and site services. The team's technical consultation and solution delivery leveraged technology disruption to innovate and improve business in the areas of engineering, marketing, field operations, technical support teams, customer experience, B2B services, and finance.
As much work was put into serving our clients, some of our favorite moments of the year were spent building relationships with our customers, hearing about their families, and continuing to impact lives in business and in life.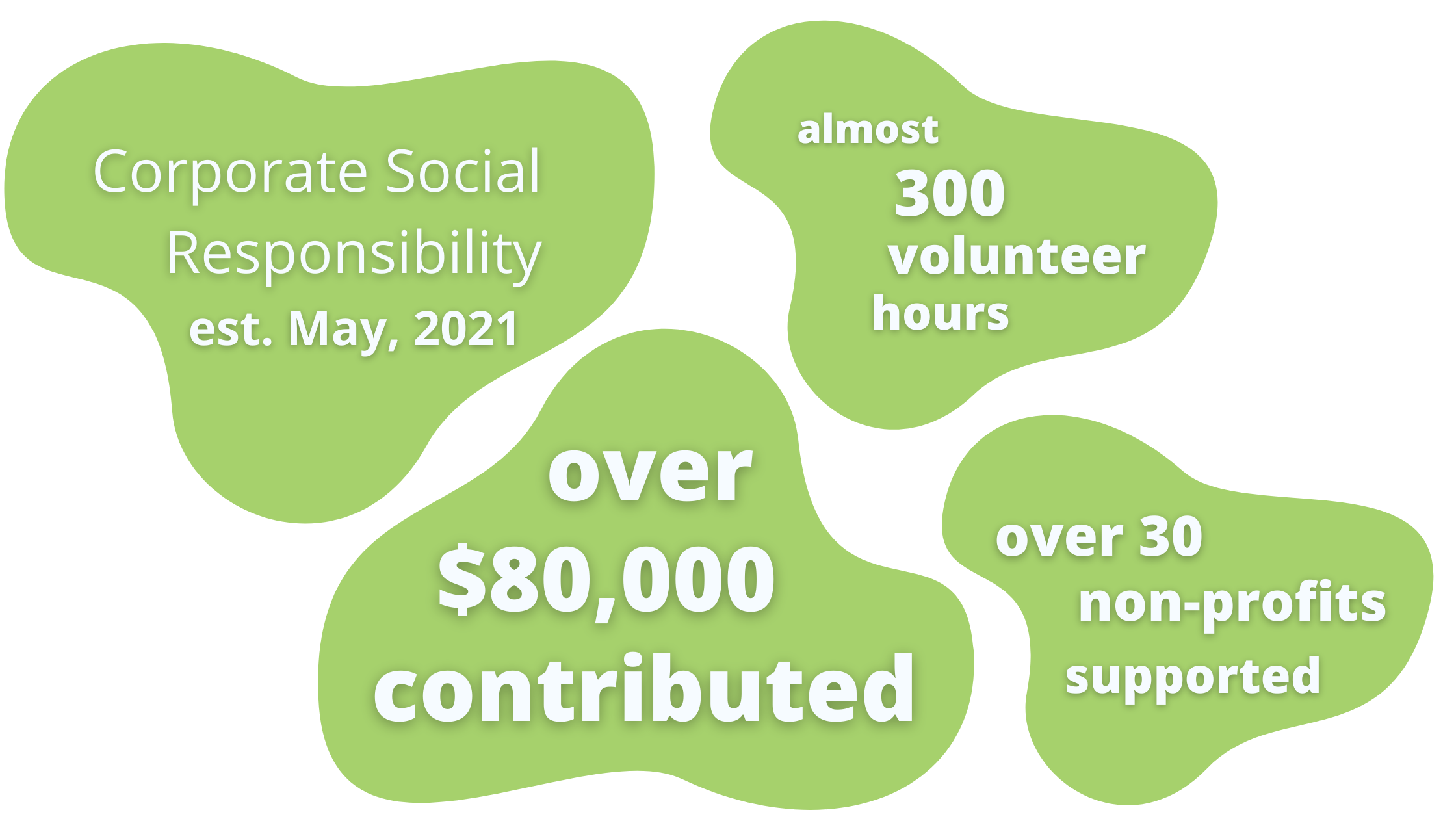 Impacting Lives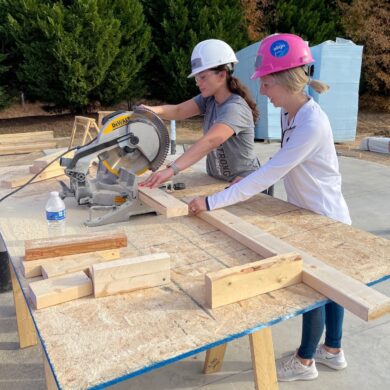 Impacting lives is engrained in everything we do, and our mission stands to encourage an inclusive future that benefits our employees, customers, and communities. As we reflect on the Corporate Social Responsibility (CSR) program we launched in May, we are overwhelmed by its impact. This program serves as a constant reminder of the power of service and the strength of community. Contributing both time and resources during a period of global uncertainty allowed us to provide support and stability across the U.S. and Canada.
Continually inspired by impact and motivated by commitment, TSG contributed over $80,000 towards charitable organizations and corporate partnerships that fuel social impact. Here's how our internal CSR program worked to stimulate a spirit of support and activate a service-oriented mindset from the inside out:
Community Service Initiatives – TSG employees exceeded 289 volunteer hours for an array of charitable organizations
Dollars for Doers program – TSG donated $250 dollars to an eligible organization following every 25 hours of service
Matching Gifts Program – TSG offered one-for-one matching of employee donations towards an organization of the employee's choice
Corporate Partnerships – TSG supported 32 nonprofits while partnering with Hire Heroes USA, Thurgood Marshall Scholarship Fund, Destination: Home, and Silicon Valley Cybersecurity Institute to further their initiatives and create positive change as a team
Together, we truly believe we can impact the greater good by continuing to serve a world that's fighting for us to #DoMore.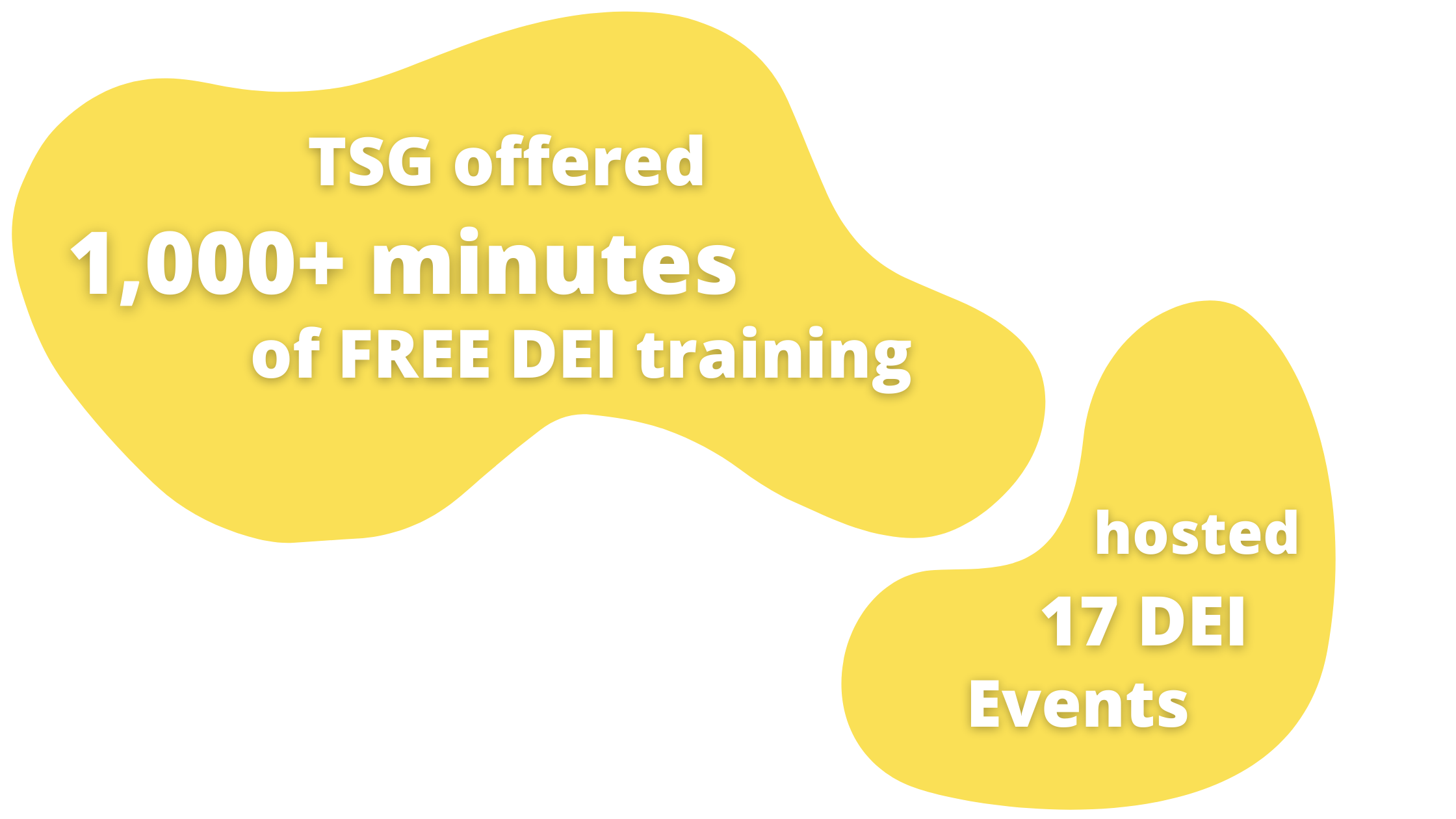 A Culture of Inclusion
In fact, the mindset of #DoMore rolls easily off the tongue after 2021. The year was filled with division and a battle for inclusion that impacted many facets of all our lives. Here at TSG, we worked to build a culture that encouraged, embraced, and celebrated diversity. Here's how:
TSG offered 1,000+ minutes of free Diversity, Equity, and Inclusion (DEI) training, open to more than 130,000+ people across our digital networks and consultant alumni community over the last year
Celebrated 8 heritage months, 2 awareness months, and 7 separate DEI holidays
Hosted 17 DEI educational events
Supported over 150 attendees at our Women in Technology events
Empowered 20 women to participate in our internal Women in Business Program, which enables and equips women within TSG to envision a path to long-term personal/professional success
Within The Select Group, we formed an employee DEI committee to deliver a more comprehensive and diverse organization. Dedicated to the areas of Training, Talent Acquisition, a Culture of Inclusion, and Accountability and Communications, the committee works to simultaneously share the impact while investing in employees and their professional development. We wrap up the year proud of our efforts and reflecting on a workplace where everyone can be who they are.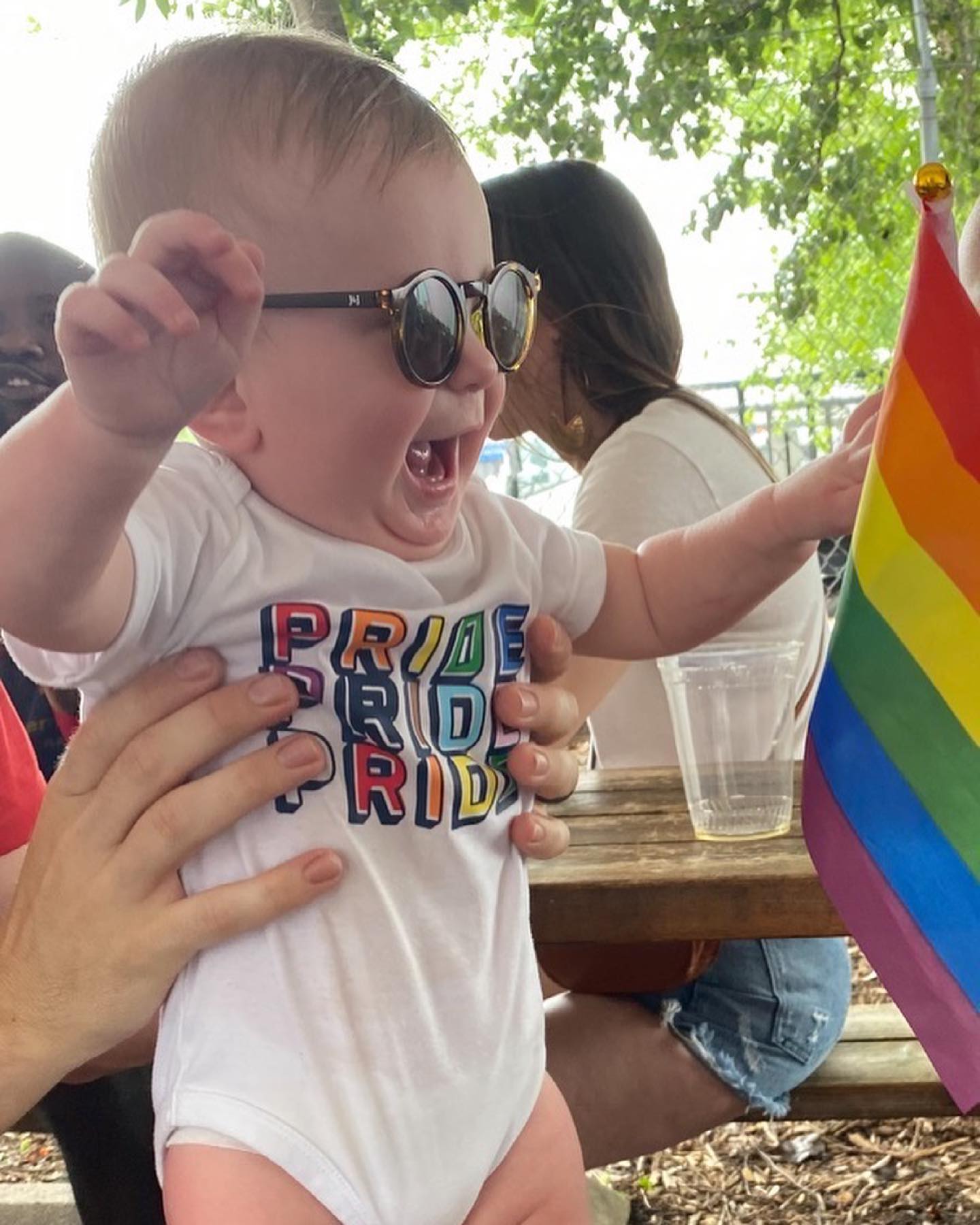 As we look towards what's new in 2022, we are thrilled to invite new employees to the committee, introduce inclusive leadership training, and launch our new Employee Resource Groups to support Women, Parents and Caregivers, and Mosaic – Racially and Ethnically diverse communities. We will continue to energize authenticity and empower the unique perspectives and voices of our employees and consultants. Leveraging these differences is key to helping our clients succeed and making our communities stronger.
Celebrating Our People
In tune with the appreciation of our clients came the continued celebration of our team members and their families. Even in the new remote work environment of living where we work, we managed to also love where we work.
We embraced TSG support groups, such as TSG moms, and hosted wellness events, such as meditation and yoga classes, meal prepping sessions, and stress and anxiety management courses. Our Employee Assistance Program offered professional support in mental and emotional wellbeing and served as a consultative role for addressing challenges and needs within the workplace. We recognize that our employees' physical and mental health is of the utmost importance, and we strived to ensure they felt this, too.
Additionally, investing in employee development is continually evolving to fit individual needs and goals. To help boost employee growth in areas that foster comprehensive advancement, we offered developmental programs, such as executive coaching and financial webinars, to all tenure levels. Our virtual team bonding events, such as Halloween trivia and Valentine's Day crafts, simultaneously cultivated a culture of collaboration and partnership.
Taking Time for Ourselves
Here at TSG, we are a team of hardworking front-runners who are hungry for knowledge and poised to #DoMore, together. But sometimes doing more means doing less. This year, our executive leadership team gifted a paid company-wide holiday vacation week to unwind and relax with family and friends. We are thankful for leaders who understand what it means to celebrate professional and personal life. We may be in the tech industry, but we all need time to reboot, right?
So, here's to TSG in 2021 and all that's to come in 2022. We know the world is constantly evolving, and we are too. As we sign off for the year, we can't help but get excited about the ways we plan to continue delighting and enhancing your experience with The Select Group!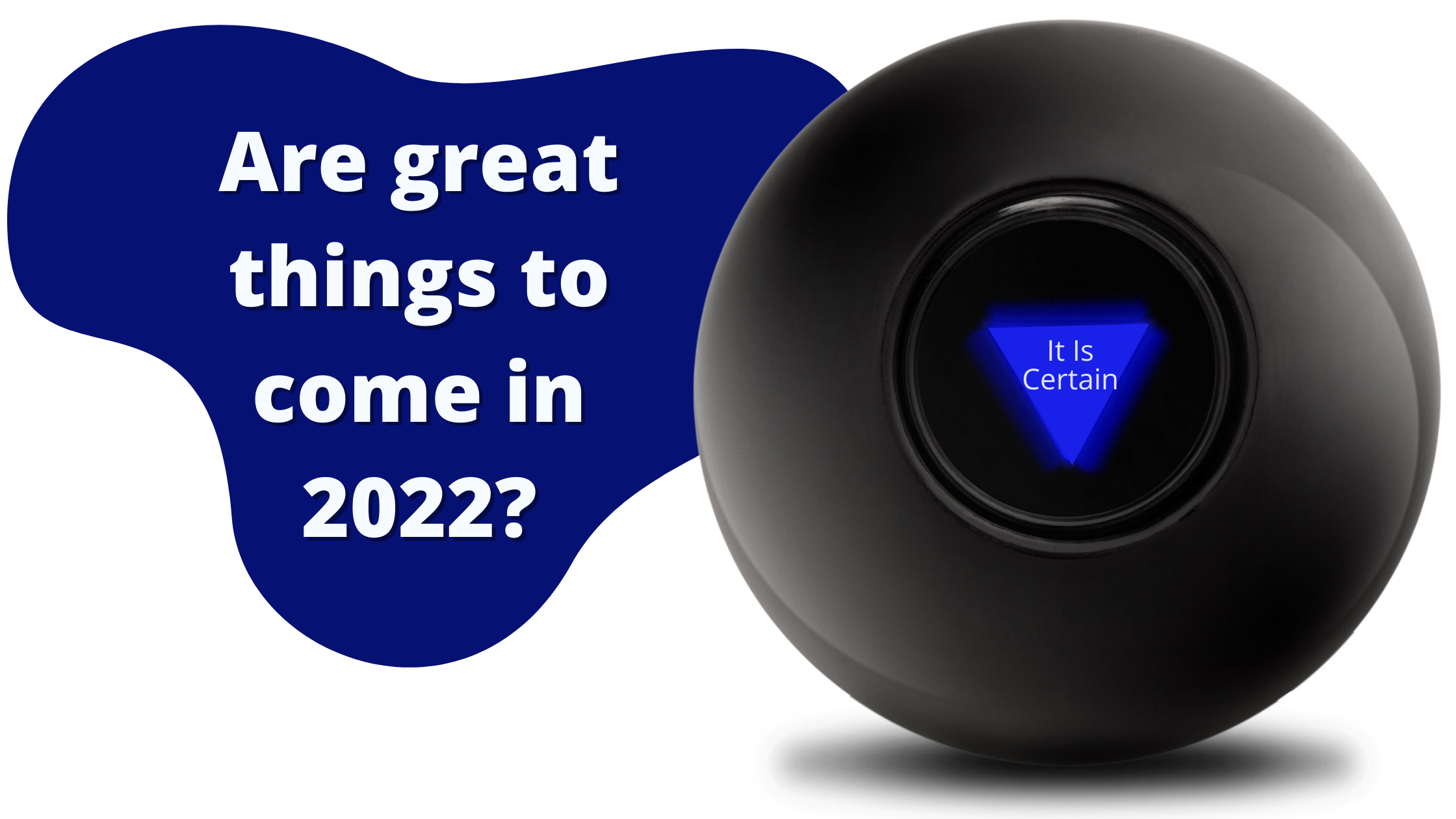 Stay up to date with TSG's latest