TSG named TAPFIN Premier Partner
Author
Stephanie Cashwell
Publish Date
February 8, 2016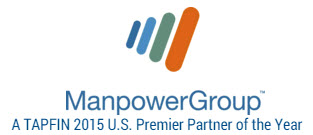 ManpowerGroup Solutions' managed service provider, TAPFIN, part of ManpowerGroup, announced The Select Group as one of its 2015 U.S. Premier Partners of the Year. Of the more than 2,000 U.S. suppliers in TAPFIN's partnership network, 55 were recognized as Elite and Premier partners.
The suppliers were selected based on an evaluation of key achievements, including meeting a threshold of overall U.S. spend and outstanding overall requisition fill ratio, reviewed across seven job categories.
"As experts in the world of work, we understand and recognize the best workforce solutions," said Jamiel Saliba, Vice President/General Manager, TAPFIN Global. "TAPFIN's U.S. Partners of the Year awards honor our top suppliers and their incredible achievements supporting TAPFIN U.S. client programs in 2015. Congratulations to each of the winners on this great accomplishment."
The full list of 2015 Elite and Premier Partners, as well as Partners of the Year, can be found below. To learn more about TAPFIN's partnership network, click here.
About TAPFIN
TAPFIN is a leading managed service provider (MSP) dedicated to the innovation and delivery of integrated workforce management solutions worldwide. TAPFIN's customized, scalable MSP solutions for contingent and project-based spend are instrumental in driving process, performance and productivity improvements across the client organization, while providing visibility, predictability, risk mitigation and overall cost reduction. Part of ManpowerGroupTM Solutions, the outsourced services offering from ManpowerGroup, TAPFIN offers a complete suite of workforce management solutions that fully leverages a blend of global expertise and local knowledge. For more information, visit www.tapfin.com.