A message from our CEO on supporting our nation's active service members and veterans
Publish Date
September 3, 2021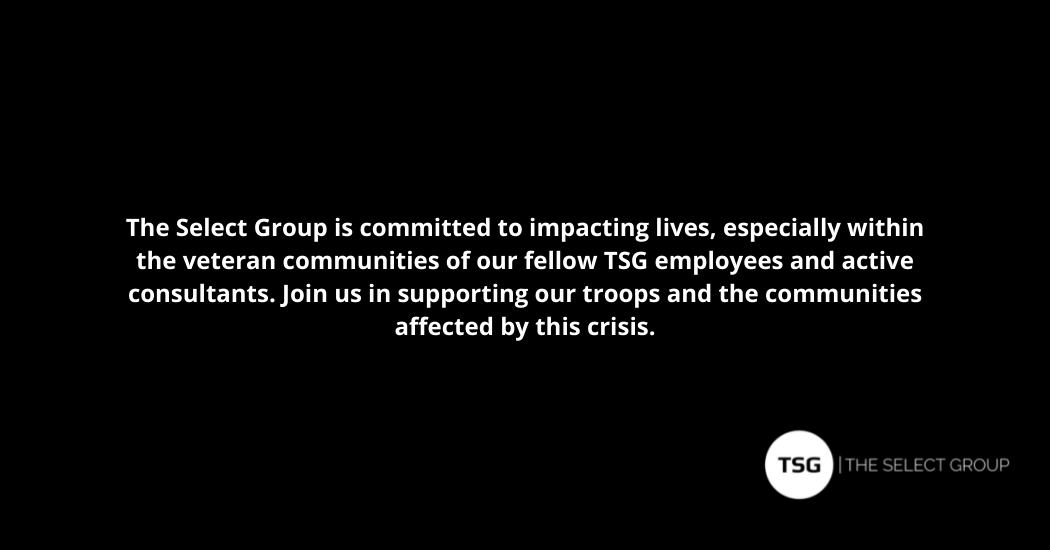 Over the past week, I've felt saddened and overwhelmed hearing about the terrorist attacks at Kabul airport in Afghanistan that killed 13 American service members. While this is a continually evolving situation, we recognize the many complexities soldiers and U.S. citizens are facing in the aftermath of our withdrawal from Afghanistan. My heart is with our active service members and veterans, as well as families and friends impacted by these events. We know moments like these can be challenging.
TSG is committed to impacting lives, especially within the veteran communities of our fellow TSG employees and active consultants. The Department of Veterans Affairs is urging active-duty and former service members to reach out to their comrades, family members, friends, and organizations, if they are experiencing symptoms of PTSD, feelings of despair, anger, or questioning "the meaning of their service and whether it was worth the sacrifices they made."
Here is a list of Veteran Affairs (VA) resources for veterans needing mental health care and support:
Consider supporting an important cause to our nation's veterans
TSG aims to bring awareness to the mission and sacrifice of our veterans. The dire situation in Afghanistan adversely impacts our veterans and their friends/family, our active-duty service members, the Afghan refugees, and Americans, as a whole.
The Select Group has made contributions to the organizations below to aid our troops and the Afghanistan community during this crisis:
No One Left Behind. www.nooneleft.org/

Afghan nationals served alongside our U.S. troops as translators, emissaries, and soldiers for the last 20 years. No One Left Behind is the only nationwide association of wartime allies in the U.S. dedicated to ensuring that America keeps its promise to our interpreters from Iraq and Afghanistan. Donations go to helping refugee families with emergency financial aid and used vehicles to support their transition into the U.S.

International Rescue Committee. www.rescue.org

The IRC has been responding in Afghanistan since 1988 and we will stay as long as we are needed. We have launched an appeal to raise much-needed funds to ensure our teams can continue to deliver lifesaving aid in areas of conflict, as well as to provide emergency cash assistance and protection services for internally displaced people in Kabul.

Welcome to America Project. www.wtap.org

The Welcome to America Project celebrates refugees and accelerates their self-sufficiency by providing personal, meaningful welcomes and continued connections. We share transportation, technology and transformational resources to enhance success, so that refugees do not just resettle in our country, they find community and flourish. We create impacts that last a lifetime for the refugees, as well as the volunteers who serve.
With appreciation,
George Karakostantis
CEO, The Select Group