Introducing TSG's First Chief Operating Officer
Publish Date
January 29, 2019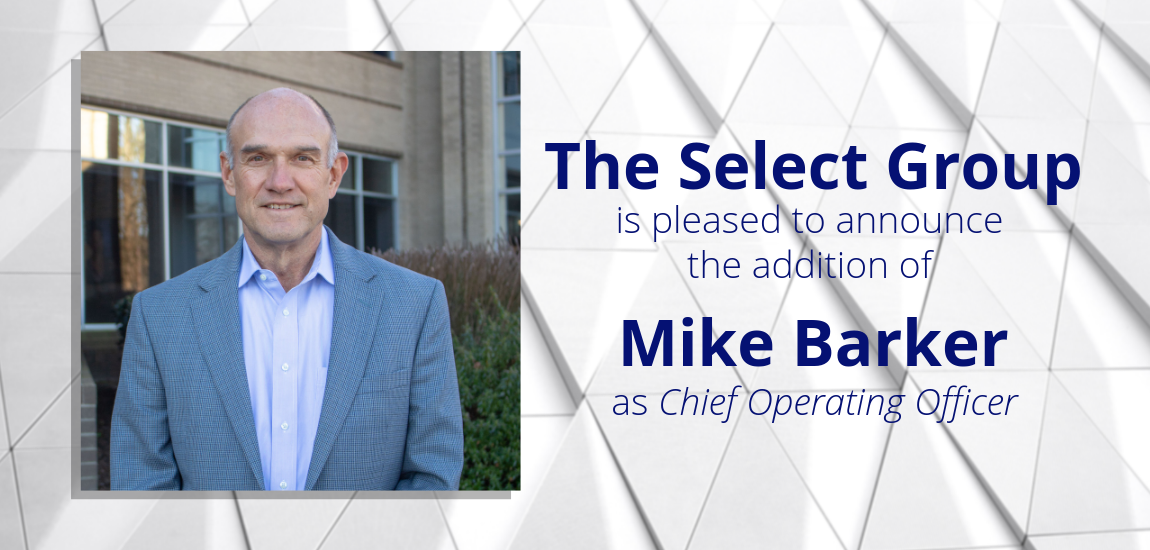 Press Release:
GlobeNewswire – Mike Barker Joins The Select Group as Chief Operating Officer
We are pleased to announce Michael H. Barker (Mike) as Chief Operating Officer (COO) at The Select Group (TSG). Mike has been an advisory board member for The Select Group since January 2017, helping accelerate the growth of TSG. In this new role, Mike will oversee operations, sales, services, marketing, and technology.
"I am confident that Mike's vast expertise in the industry will strengthen our capabilities as one of the fastest-growing and largest technical services firms in North America," says Sheldon Wolitski, CEO and Founder of The Select Group. "Mike is a seasoned and trusted leader who has consistently delivered results in his previous roles. As Chief Operating Officer for TSG, he will be uniquely qualified to drive initiatives across the company, with a focus on operational excellence."
As Sheldon concentrates his efforts on major account development and strategic efforts, TSG will lean on Mike's decades of experience in staffing and technology services. Mike previously served as a member of the board of directors of Eliassen Group from January 2017 to November 2018. Prior to this, he served as Senior Vice President and General Manager of Experis – North America, the $1.3B Professional Services Division of ManpowerGroup from April 2010 to December 2015. Mike served as Chief Operating Officer of COMSYS IT Partners, prior to the ManpowerGroup acquisition. He joined COMSYS IT Partners as a result of a merger with Venturi Partners in 2004. As COO of both COMSYS and Venturi Partners, Mike led rapid growth and optimized business performance.
"Sheldon and the team have done a great job creating a strong culture that puts a focus on high performance and providing a top-notch experience for clients and consultants," said Mike. "I am looking forward to being part of the future growth and success of TSG."
Prior to COMSYS, Mike led emerging technology companies to rapid growth and success. He founded a systems integration company, LAN Solutions, in Atlanta in 1987. Mike sold the company to Evernet in 1991, where he became part of their national leadership team. Evernet was sold to Control Data in 1993. Next, Mike led The Computer Group, which became an integral unit in the formation of the Technology Service division of IKON, the world's largest independent provider of document management systems.
Mike has an electrical engineering degree from the University Of North Carolina at Charlotte. He has been married to his wife, Robin, for 41 years and they have two children, Claire and Philip.