Building Enterprise Software Today with JG Perrin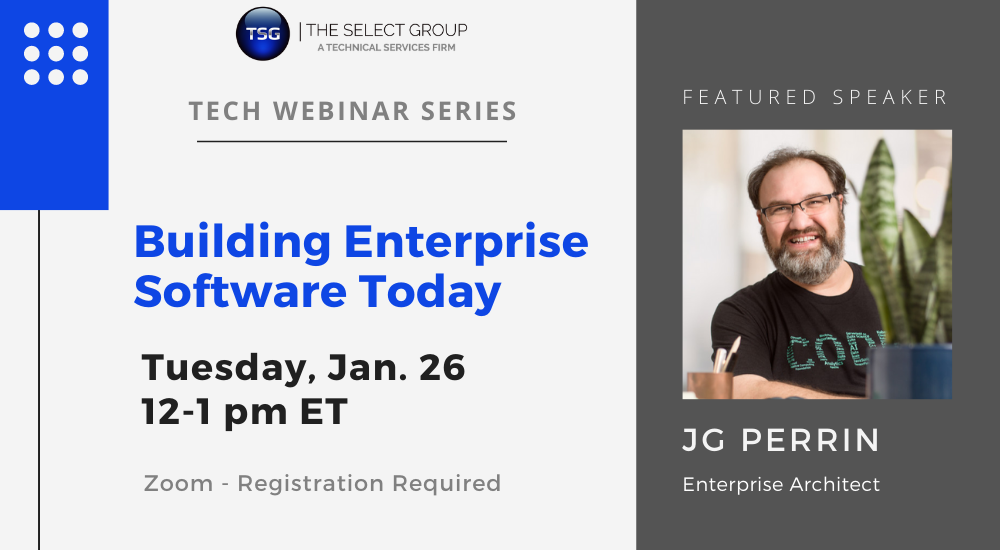 Event Information
You're invited to join the next event of our technical webinar series, Building Enterprise Software Today. Featuring speaker JG Perrin, enterprise architect, this webinar will explore the evolution of software development and modern industry best practices.
Overview
Enterprise-grade software has considerably evolved. Many of us started with waterfall and database-centric development. Some of us are now focusing on agility and user-centric design. The needs, methodologies, and requirements have massively changed in a relatively short time. This discussion will provide context for integration, security, cloud, digital transformation, infrastructure as code, DevOps, and other concepts that are more than just buzzwords.
Key Takeaways
The software industry then & now
The impact of web on infrastructure
How business & finance are impacting software engineering
Best practices for modern development
Intended Audience
Developers in need of a refresher
Waterfall aficionados in search of truth
Architects wanting to build the next great thing
The webinar will take place on Tuesday, January 26 from 12-1 pm ET. You must register in advance to join this session. After registering, you will receive a confirmation email containing information about joining the meeting.

About JG Perrin

Jean-Georges Perrin "JGP" is an enterprise architect working for Advance Auto Parts and the author of Spark in Action, 2nd edition. He is passionate about software engineering and all things data, big and small. His latest endeavors involve more and more data engineering, data governance, and, his favorite theme, the industrialization of data science. He is proud to have been the first in France to be recognized as an IBM Champion and to have been awarded the honor for his 12th consecutive year. Jean-Georges shares his more than 25 years of experience in the IT industry as a presenter and participant at conferences and through publishing articles in print and online media. His blog is visible at http://jgp.net. When he is not immersed in IT, which he loves, he enjoys exploring his adopted region of North Carolina with his wife and kids.
> Interested in hosting a tech webinar?
Please contact Experience@selectgroup.com and tell us about your topic of interest.